Catalogs

>

Leica RTC360 LT Data Sheet
Catalog excerpts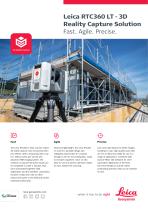 Leica RTC360 LT - 3D Reality Capture Solution Fast. Agile. Precise. 3D Reality Capture The Leica RTC360 LT laser scanner makes 3D reality capture more economical than ever before. With a measuring rate of up to 1 million points per second and advanced HDR imaging system, the creation of coloured 3D point clouds can be completed in under 2 minutes. Plus, semi-automated targetless field registration and the seamless, automated transfer of data from site to office reduce time spent in the field and further maximise productivity. Small and lightweight, the Leica RTC360 LT scanner's portable design and collapsible tripod mean it's compact enough to fit into most backpacks, ready to be taken anywhere. Once on-site, easy-to-use one-button operation makes for fast, hassle-free scanning. Low noise data allows for better images, resulting in crisp, high-quality scans that are rich in detail and ready for use in a range of applications. Combined with Cyclone FIELD 360 software for semiautomated registration in the field, the Leica RTC360 LT scanner offers outstanding precision that can be checked on-site.
Open the catalog to page 1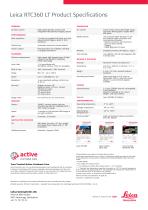 Leica RTC360 LT Product Specifications GENERAL High-speed 3D laser scanner with integrated HDR spherical imaging system Data acquisition <3 mins for complete full dome scan and spherical HDR image at 6mm @ 10 m resolution Double scan Field procedure for targetless checking of angular parameters Mobile devices Leica Cyclone FIELD 360 app for iOS and Android tablet computers and smartphones including: - Remote control of scan functions - 2D & 3D data viewing - Tagging - Visual alignment of scans Integrated wireless LAN (802.11 b/g/n) Leica MS256, 256 GB exchangeable USB 3.0 flash drive...
Open the catalog to page 2
All Leica Geosystems catalogs and technical brochures

Archived catalogs

Compare up to 10 products