Catalogs

>

Leica Flexline TS10 DS EN
Catalog excerpts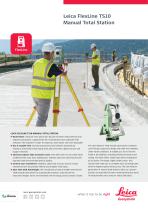 Leica FlexLine TS10 Manual Total Station LEICA FLEXLINE TS10 MANUAL TOTAL STATION n Work faster: measure more points per day due to faster measurements and stakeout procedures, supported by the revolutionary Leica Captivate field software. The software is made to make your work easier and more enjoyable. n Use it trouble-free: increase productivity and minimise downtime by The Leica FlexLine TS10 manual total station combines relying on instruments that simply work and come with a global service and user-friendly, ergonomic design with high-end reliability support network. under harsh conditions. It enables you to tie into the n Choose products that are built to last: even after years of use under harsh modern 3D dataflow, including enhanced linework and conditions (like mud, dust, blowing rain, extreme heat and cold), FlexLine still coding. The TS10 offers mobile data device integration operates with the same high level of quality. as an option. The larger, highly visible colour- and n Control your investment: reliability, speed and accuracy ensure a lower investment over the product lifetime and a higher resell value. n Save time with AutoHeight: this revolutionary feature enables the FlexLine touchscreen helps you to complete your surveying tasks with the highest speed and accuracy. The new FlexLine generation of manual total stations relies on a proven TS10 manual total station to automatically measure, read and set the product concept that has been revolutionising the world instrument height. Errors are minimised and the setup process onsite is faster. of measurement and survey for nearly 200 years.
Open the catalog to page 1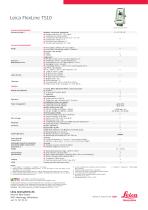 Leica FlexLine TS10 Leica FlexLine TS10 ANGULAR MEASUREMENT Accuracy Hz and V Absolute, continuous, diametrical1 n Display resolution: 0.1'' (0.1 mgon) n Quadruple axis compensation n Compensator setting accuracy2: 0.5'' / 1''/ 1.5'' n Compensator range: +/- 4' n Electronic level resolution: 2" n Circular level sensitivity: 6` / 2 mm DISTANCE MEASUREMENT Range Accuracy / Measurement time n Prism (GPR1, GPH1P): 0.9 m to 3,500 m n Prism GPR1 (Long Range mode) > 10,000 m Non-Prism / Any surface n R5003 n R1000 4 Single prism n Precise+ / Once: 1 mm + 1.5 ppm (typical 2.4 s) n Once&Fast: 2 mm +...
Open the catalog to page 2
All Leica Geosystems catalogs and technical brochures

Archived catalogs

Compare up to 10 products