Catalogs

>

Leica CS25 Ultra-Rugged Tablet Computer Datasheet
Catalog excerpts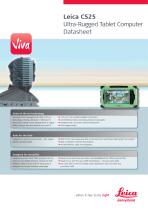 Leica CS25 Ultra-Rugged Tablet Computer Datasheet State of the art technology The Leica CS25 is equipped with state of the art nn 17.8 cm/7 inch sunlight readable touchscreen technology, running a Windows® 7 Ultimate OS nn 64 GB SSD hard drive, eliminating internal moving parts allows you to trade in your desktop PC for a rugged nn Integrated GPS, 3G modem, WiFi and Bluetooth® tablet, having it with you wherever your work is. Built for the field Designed for extreme environments – ultra-rugged, nn Built for the most demanding field environments but nevertheless light-weight and compact nn Built to operate in extreme temperatures nn All-day-batteries, easily hot-swappable Designed for versatility Integrate your Leica CS25 tablet computer into the nn Ready-to-use with Leica Zeno Field, Leica MobileMatriX (for GNSS as well as TPS) family of Leica Mobile Solutions. Choose the field nn Ready-to-use with the Leica GNSS SmartAntenna – the Leica Zeno GG03 software, GNSS accuracy and the setup (pole or nn Use Leica Zeno Connect to embed custom applications into Leica CS25 and backpack) to suit your workflow and budget.
Open the catalog to page 1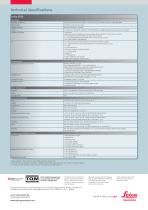 Technical Specifications Leica CS25 Technology Processor & Memory Intel Ultra Low Power Atom Z530 1.6 GHz processor (w/ US15W Chipset), 2 GB DDR2 RAM Data Storage 64 GB SSD solid state hard drive Operating System Microsoft Windows 7 Ultimate 7" widescreen 1024x600 resolution TFT LCD MaxView™ sunlight readable resistive touchscreen display Keyboard & Buttons Power key Menu key (Controls Brightness, Volume, Battery Status, WiFi& BT On/Off, and 3G On/Off) 4+1 Navigation keys (Left, Right, Up, Down, OK for Enter) 3x user programmable hotkey buttons that control up to 6 functions On-screen...
Open the catalog to page 2
All Leica Geosystems catalogs and technical brochures

Archived catalogs

Compare up to 10 products