Catalogs

>

EL-WiFi-ULT+
Catalog excerpts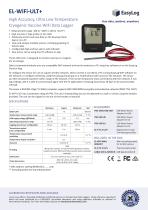 EL-WiFi-ULT+ High Accuracy, Ultra Low Temperature Cryogenic Vaccine WiFi Data Logger Your data, anytime, anywhere • Measurement range -100 to +100°C (-148 to +212°F) • High accuracy T-type probe on 2m cable • Wirelessly stream and view data on the EasyLog Cloud, App or on a PC • View and analyse multiple sensors, including graphing of historic data • Configurable high and low alarms with indicator • Easy sensor set-up using free PC software or App The EL-WiFi-ULT+ is designed to monitor vaccines in cryogenic dry ice storage. Data is streamed wirelessly over any compatible WiFi network and can be viewed on a PC using free software or on the EasyLog Cloud or App. To configure the sensor for use on a given wireless network, either connect it via USB to a PC running EasyLog WiFi software on the network, or configure wirelessly using the EasyLog Cloud app on a mobile phone with access to the network. The sensor can then be placed anywhere within range of the network. If the sensor temporarily loses connectivity with the network, it will log readings until it is able to communicate again with the PC application or EasyLog Cloud (max 30 days at 10 second sample interval). The sensor is IEEE 802.11bgn* (2.4GHz) compliant, supports WEP, WPA/WPA2 encryption and enterprise networks (PEAP, TTLS, FAST). EL-WiFi-ULT+ has a protection rating of IP40. The unit is freestanding, but can be attached to a wall or surface using the bracket provided. The unit can be clipped in and out of the bracket as required. SPECIFICATIONS Minimum Battery life Temperature measurement range Operating temperature range Logging period (user configurable) Transmission period (user configurable) Temperature measurement resolution Temperature display resolution Accuracy IP Rating Dimensions IP40 (Bung fully inserted, not permanently powered, thermocouple connector fitted and fully inserted, device mounted vertically.) USB Mains Power Adapter for USA USB Mains Power Adapter for UK USB Mains Power Adapter for EU Replacement T-type Thermocouple probe INCLUDED IN THE BOX EL-WIFI WALL BRACKET Wall mounting bracket for EL-WiFi sensors Thermocouple probe CABLE USB A-MICRO B USB Type A to Micro B Probe dimensions CALIBRATION CERTIFICATES NOW AVAILABLE Lascar now offers a Traceable Calibration Certificate Service on Temperature Data Loggers. Using reference equipment which has been calibrated by a UKAS/NIST accredited laboratory and using apparatus traceable to national or www.lascarelectronics.com/data-loggers international standards. For more information please see www.lascarelectronics.com.
Open the catalog to page 1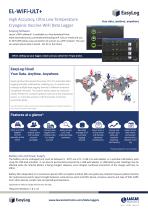 EL-WiFi-ULT+ High Accuracy, Ultra Low Temperature Cryogenic Vaccine WiFi Data Logger Your data, anytime, anywhere EasyLog Software Lascar's WiFi software* is available as a free download from: www.lascarelectronics.com/software/easylog-wifi. Easy to install and use, EL-WiFi-WIN allows easy connection of sensors to a WiFi network. The user can select where data is stored - the PC or the Cloud. When setting up your logger, make sure you select the T-Type probe. Battery Life and Power Supply The battery can be recharged (unit must be between 0 - 40°C) via a PC, a USB +5V wall adapter, or a...
Open the catalog to page 2
All Lascar Electronics catalogs and technical brochures

Compare up to 10 products