Catalogs

>

EL-WiFi-TPX+
Catalog excerpts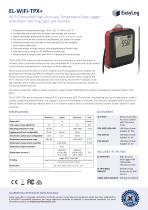 Wi-Fi Connected High-Accuracy Temperature Data Logger with Alarm Warning Light and Sounder • Temperature measurement range -40 to +125 °C (-40 to +257 °F) • Configurable alarm levels with on-board warning light and sounder • Digital calibratable probe with 3m cable (calibration certificate can be ordered separately) • No need to remove from service for recalibration, just replace the probe • Wirelessly stream and view data on the EasyLog Cloud, and configure alarm email notifications • View and analyse multiple devices, including graphing of historic data • Easy device setup using free PC software or mobile app • Device memory stores all data even if Wi-Fi is temporarily disconnected The EL-WiFi-TPX+ measures the temperature of the environment in which the probe is situated. Data is streamed wirelessly over any compatible Wi-Fi network and can be viewed on any internet-enabled device, via browser or free mobile app. Device setup and connection to a Wi-Fi network and the EasyLog Cloud are simple, just download the free EasyLog WiFi PC software or the free EasyLog Cloud mobile app and follow the device setup wizard. The device can be placed anywhere within range of the Wi-Fi network. If the device temporarily loses connectivity with the Wi-Fi network, it will log readings until it is able to communicate again with the EasyLog Cloud (max. 30 days at 10 second sample interval). The device is IEEE 802.11bgn (2.4GHz) compliant, supports WEP, WPA/WPA2 encryption and enterprise networks (PEAP, TTLS, FAST). The EL-WiFi-TPX+ has a protection rating of IP42, and the probe IP67. The device is freestanding, but can be attached to a wall or surface using the bracket provided, and clipped in and out of the bracket as required. This device is equipped with a translucent back to show a red flashing indicator when it is in an alarm state as well as a moderate volume sounder to alert anyone in close proximity. SPECIFICATIONS Minimum Operating temperature range Logging period (user configurable) Temperature measurement range Temperature measurement resolution Replacement HighAccuracy Calibratable Thermistor Probe USB Mains Power Adapter for USA USB Mains Power Adapter for UK USB Mains Power Adapter for EU Temperature display resolution Temperature accuracy** Transmission period (user configurable) Battery life* High-Accuracy Data Logger with Calibratable Thermistor Probe EL-WIFI WALL BRACKET Wall Mounting Bracket for EL-WiFi Sensors (Bung fully inserted, not permanently powered, probe connector fitted and fully inserted, device mounted vertically.) * Please note the battery life statement on page 2 of this data sheet ** Accuracy may be affected when using a non-approved power supply to charge or permanently power the EL-WiFi-TPX+ CABLE USB A-MICRO B USB Type A to Micro B CALIBRATION CERTIFICATES NOW AVAILABLE Lascar now offers a traceable calibration certificate service. Using reference equipment which has been calibrated by a UKAS/NIST accredited laboratory and using apparatus traceable to national or international standards. For more www.lascarelectronics.com/data-loggers information please see www.lascarelectronics.com.
Open the catalog to page 1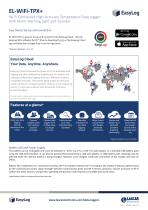 Wi-Fi Connected High-Accuracy Temperature Data Logger with Alarm Warning Light and Sounder Easy Device Set Up and Connection EL-WiFi-TPX+ is easy to set up and connect to the EasyLog Cloud. Use the EasyLog WiFi software for PC* (free to download here) or the EasyLog Cloud app available from Google Play or on the App Store. *Requires Windows 7, 8.1, 10 Battery Life and Power Supply The battery can be recharged (unit must be between 0 - 40°C) via a PC, a USB +5V wall adapter, or a portable USB battery pack using the USB lead provided. It can also be permanently powered by a USB wall adapter...
Open the catalog to page 2
All Lascar Electronics catalogs and technical brochures

Compare up to 10 products