Catalogs

>

Scraper belt
Catalog excerpts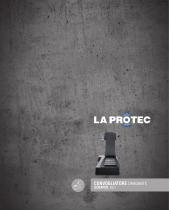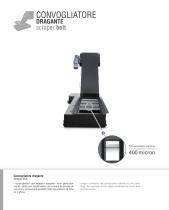 DRAGANTE scraper belt filtro autopulente (optional) self cleaning filter (optional) Convogliatore dragante scraper belt I convogliatori con tappeto dragante sono particolarmente adatti per applicazioni con trucioli di piccole dimensioni, ad esempio prodotti dalla lavorazione di ottone o ghisa. Scraper conveyors are particularly suitable to very little chips, for example those chips produced by brass and cast iron works.
Open the catalog to page 2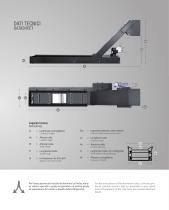 DATI TECNICI Legenda tecnica Tecnical key Lc = Larghezza convogliatore Conveyor width Hu = Altezza utile Usable height Ht = Altezza totale Total height Tl = Lunghezza totale Total length a = Inclinazione ( da 30°a 60°) A Per l'evacuazione del truciolo di alluminio La Protec realiz-za sistemi speciali in grado di garantire un ottimo grado di separazione di truciolo e liquido lubrorefrigerante. Ingombro laterale carter motore Engine carter lateral overall size Lunghezza utile Usable length Apertura utile Usable opening Larghezza totale con copriguida Total width with guidecaps Altezza...
Open the catalog to page 3
All La protec catalogs and technical brochures

Compare up to 10 products