Catalogs

>

LM79
Catalog excerpts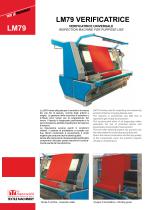 LM79 VERIFICATRICE VERIFICATRICE UNIVERSALE INSPECTION MACHINE FOR PURPOSE USE La LM79 viene utilizzata per il controllo e la misura dei vari tipi di tessuto, nonche degli articoli a maglia. La gestione della macchina e semplice e richiede poco tempo per la preparazlone del lavoro. II tessuto e trasportato positivamente e la sincronizzazione perfetta impedisce la formazione ditensioni. La mlsurazlone awiene qulndl in condizioni ottimali. II sistema dl arrotolatura a contatto con due clllndrl motorizzatl e slcuramente II modo mlgliore per produrre rotoll dl ottima qualita. Grazle alia costruzione robusta ed alia qualita delle componenti utilizzate questa macchina e pratica-mente esente da manutenzione. LM79 is being used for inspecting and measuring all kinds of fabrics including delicate knits. The machine is userfriendly anly little time is required to get it ready for production. The synchronized drive of all trasporting rollers eliminates the risk of stretched fabrics and guarantees precise lenght measurement. The twin roller batching system has proved to be the ideal system for producting top quality rolls. Due to the robust construction and the high quality of the components used, the machine requires virtually no maintenance.
Open the catalog to page 1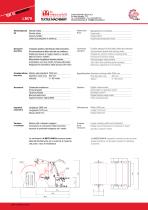 la meccanicS COSTRUZIONE MACCHINE TESSILI TEXTILE MACHINERY 24059 URGNANO (BG) ITALY Via delle Industrie, 174 Tel. +39 035893099 - Fax +39 035893120 www.la-meccanica.it info@la-meccanica.it Alimentazione Grande rotolo_ Tessuto faldato_ Linee di produzione in continuo Fabric fed Big batches on A-frames from Small rolls_ Plaited fabric_ Continuous production lines Soluzioni Trasporto positivo del tessuto nella macchina tecniche Sincronizzazione della velocita con ballerino Adatta per tessuti a maglia, elastici e navetta Marcia avanti e indietro Misurazione lunghezza tessuto...
Open the catalog to page 2
All LA MECCANICA catalogs and technical brochures
Compare up to 10 products