Catalogs

>

V - Series? Transportation Simulators
Catalog excerpts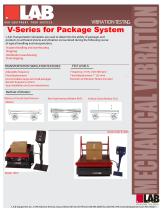 MECHANICAL VIBRATION V-Series for Package System TM L.A.B. Transportation Simulators are used to determine the ability of packages and products to withstand shocks and vibration encountered during the following course of typical handling and transportation: In-plant handling and warehousing Shipping Distribution warehousing Final shipping TRANSPORTATION SIMULATOR FEATURES: Adjustable frequency Fixed displacement Accommodates large and small packages Remote frequency control Easy-installation and Low-maintenance TEST LEVELS: Frequency: 2-5 Hz (120-300 rpm) Fixed displacement: 1" (25 mm) Direction of Vibration: Rotary (Circular) Method of Motion: Rotary or Circular Synchronous Motion Vertical Linear Motion (V/L) L.A.B. Equipment, Inc., 1549 Ardmore Avenue, Itasca, Illinois 60143, USA Phone: 630.595.4288 Fax: 630.595.5196 www.labequipment.com Rev 032211
Open the catalog to page 1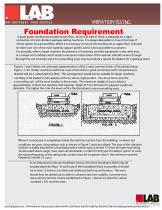 OUR EQUIPMENT. YOUR SUCCESS. VIBRATION TESTING Foundation Requirement A good grade, reinforced concrete factory floor, which is at least 6" thick, is adequate for a rigid connection of most vibration package testing machines. It is always desireable to mount this type of of test system on a ground floor. When it is necessary to mount the machine on an upper floor, it should be done over one of the main building support girders and as near as possible to a column. Occasionally, either a larger machine, the presence of extremely sensitive equipment in the same area, or a unique soil condition...
Open the catalog to page 2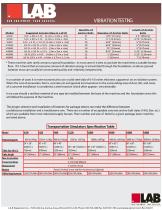 Suggested Concete Mass (L x W D) 4 Ft. x 4Ft.x 1 Ft. (1.2m x 1.2m x .3m) 5 Ft. x 5Ft.x 1 Ft. (1.5m x 1.5m x .3m) 6 Ft. x 5 Ft. x 1.5 Ft. (1.8m x 1.6m x .5m) 10 Ft. x 10 Ft. x 2 Ft. (3m x 3m x .6m) 10 Ft. x 10 Ft. x 2 Ft. (3m x 3m x .6m) 10 Ft. x 10 Ft. x 2 Ft. (3m x 3m x .6m) 16 Ft.12Ft. x 4 Ft. (4.8m x 3.7m x 1m) 16 Ft.12Ft. x 4 Ft (4.8m x 3.7m x 1.2 m) * These machine sizes rarely warrant a special foundation. In most cases it is best to just bolt the machineto a suitable factory floor. If it is found that an excessive amount of vibration energy is transmitted through the foundation, an...
Open the catalog to page 3
All L A B Equipment catalogs and technical brochures

Compare up to 10 products