Catalogs

>

TS and THS Series Test Chambers
Catalog excerpts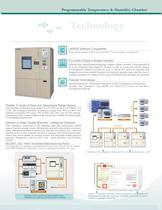 THS Sries Programmable Temprature & Humidity Chamber labvieWsoftware compatibility Auto-switch between KSON and LabVIEW驙 communication architectur PC Control of Single or Multiple Chambers Optional Web Communications Manager software allows complete "E-management"of up to 32 Chambers with single PC, through a LAN, or across the internet. Robust E-management software provides for local or remote PC control of disparate test programs run across multiple Chambers at physically separate sites, real-time view of multiple Chambers on a single monitor, and consolidated data recording and...
Open the catalog to page 2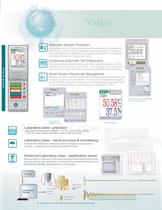 IXOi s', t. s scnm '50.58S 37.5? POWER m DEHUM ■m- '°1 ADD HUM 1 -~ 1 D M 0 Automatic Sample Protection ta IflHai *mtr mm += Automatically restores chamber temprature to room ambient at completion of test program or if temperature program set points are exceeded. The optional programmable power receptacles protect powered sample/DUT and Chamber by shutting off power when test program ends. Continuous AutomaticSelfDiagnostics_ Chamber operating software continuously checks system resources, monitors performance and records all system faults. A log of system fault occurrences is stored for...
Open the catalog to page 3
All L A B Equipment catalogs and technical brochures

Compare up to 10 products