Catalogs

>

CR-410C Coffee
Catalog excerpts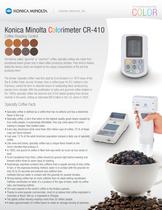 Konica Minolta Colorimeter CR-410 Coffee Roasting Control Sometimes called "gourmet" or "premium" coffee, specialty coffees are made from exceptional beans grown only in ideal coffee-producing climates. They tend to feature distinctive flavors, which are shaped by the unique characteristics of the soil that produces them. The phrase "specialty coffee" was first used by Erna Knutsen in a 1974 issue of the Tea & Coffee Trade Journal. Knutsen, then a coffee buyer for B.C. Ireland in San Francisco, coined the term to describe beans of outstanding flavor produced by special micro climates. With the proliferation of cafes and gourmet coffee retailers in the 1990s, specialty coffee has become one of the fastest growing food service markets in the world, netting an estimated $9.6 billion in the U.S. alone in 2004. Specialty Coffee Facts • Specialty coffee is defined as a coffee that has no defects and has a distinctive flavor in the cup. • Specialty coffee, a term that refers to the highest-quality green beans roasted by true crafts people, is surprisingly affordable. One cup costs about 24 cents; making it cheaper than bottled water. • Every day, Americans drink more than 300 million cups of coffee; 75 % of those cups are home-brewed. • Last year, 13 % of the adult American population enjoyed a daily cup of specialty coffee. • Like wine and honey, specialty coffee has a unique flavor thanks to the micro-climates that produce it. • In 1683, one pound of coffee in New York was worth as much as four acres of land. • To be considered truly fresh, coffee should be ground right before brewing and brewed within three to seven days of roasting. • Surprisingly, espresso contains less caffeine than a regular serving of drip coffee. In fact, in the espresso brewing method, water is in contact with the grounds for only 20 to 25 seconds and extracts less caffeine than methods that put water in contact with the grounds for several minutes. • Strong-tasting coffee has no more caffeine than its weak-tasting counterpart. Caffeine contributes no taste; it's a product of the type of bean, water-to-coffee ratio, and brewing method. • The vast majority of the world's coffee is the Arabica species. • Thanks to some popular commercials, most of us believe that coffee originated in Colombia or Brazil. Not so; it originated in Ethiopia. • The global coffee industry employs more than 20 million people. • It takes approximately 42 coffee beans to make an average serving of espresso.
Open the catalog to page 1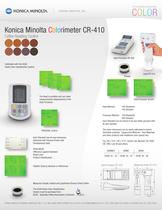 Konica Minolta Colorimeter CR-410 Coffee Roasting Control Data Processor DP-400 Calibrated with the SCAA Roast Color Classification System Head CR-410 The Head is portable and can make measurements independently of the Data Processor. Data Processor Screen Head Memory Processor Memory 100 Standards 200 Samples Each Standard can be stored in its own folder grouped with its own samples The same instrument can be easily calibrated to control Chocolate products, "Cappuccino Mixtures", Raw Materials and other products with traditional color spaces like; PASS/FAIL Control Each Standard has its...
Open the catalog to page 2
All Konica Minolta Sensing Americas catalogs and technical brochures

Archived catalogs

Compare up to 10 products