Catalogs

>

CM-600D SPECTROPHOTOMETER
Catalog excerpts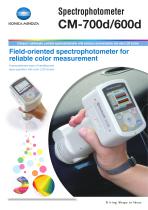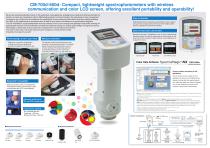 CM-700d/600d: Compact, lightweight spectrophotometers with wireless communication and color LCD screen, offering excellent portability and operability! We are surrounded by abundant colors. In the automotive, home appliance, portable phone, textile and clothing industries the variation in colors are increasing in order to differentiate products. In the food industry, the importance of color management continues to rise. Under such circumstances, the applications of color-measuring instruments have been rapidly spreading from R&D or QC departments to production sites, as well as from product...
Open the catalog to page 2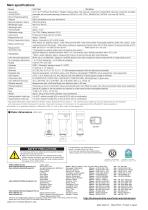 Main specifications Model Illumination/ viewing system di: 8°, de: 8° (diffused illumination, 8-degree viewing angle), SCI (specular component included)/SCE (specular component excluded) selectable with automatic switching (Conforms to CIE No. 15, ISO 7724/1, DIN5033 Teil7, ASTM E 1164, and JIS Z 8722) ø40 mm Silicon photodiode array (dual 36-element) Diffraction grating 400 nm to 700 nm 10 nm Approx. 10 nm 0 to 175%, Display resolution: 0.01% Pulsed xenon lamp (with UV cut filter) Approx. 1 second Approx. 2 seconds (in SCI or SCE mode) With alkaline dry batteries: Approx. 2,000...
Open the catalog to page 3
All Konica Minolta Sensing Americas catalogs and technical brochures

Archived catalogs

Compare up to 10 products