Catalogs

>

Chlorophyll Meter SPAD-502
Catalog excerpts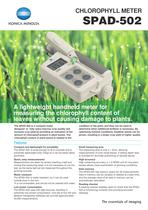 CHLOROPHYLL METER A lightweight handheld meter for measuring the chlorophyll content of leaves without causing damage to plants. The SPAD-502 is a compact meter designed to help users improve crop quality and increase crop yield by providing an indication of the amount of chlorophyll present in plant leaves. The chlorophyll content of plant leaves is related to the condition of the plant, and thus can be used to determine when additional fertilizer is necessary. By optimizing nutrient conditions, healthier plants can be grown, resulting in a larger crop yield of higher quality. Features Compact and lightweight for portability The SPAD-502 is small enough to fit in a pocket and is extremely lightweight (only 225g) so it can be easily taken anywhere. Small measuring area The measuring area is only 2 × 3mm, allowing measurements of even small leaves. A sliding depth stop is included for accurate positioning of sample leaves. Quick, easy measurements Measurements are taken by simply inserting a leaf and closing the measuring head. It is not necessary to cut the leaf, so the same leaf can be measured throughout the growing process. High accuracy High measuring accuracy (± 1.0 SPAD unit for rice-plant leaves) allows close examination of growing conditions. Water-resistant The SPAD-502 is water-resistant, so it can be used outside even in the rain. *It is not immersible, and should not be cleaned with water. Low power consumption The SPAD-502 uses LED light sources, resulting in extremely low power consumption. One set of two AA-size alkaline-manganese batteries can provide approximately 20,000 measurements. Data memory The SPAD-502 has memory space for 30 measurements. Data in memory can be recalled or deleted at a later time, and the average value of all data in memory can be automatically calculated. Reading checker A reading checker enables users to check that the SPAD502 is functioning correctly and providing accurate readings.
Open the catalog to page 1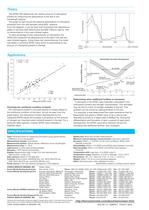 The SPAD-502 determines the relative amount of chlorophyll present by measuring the absorbance of the leaf in two wavelength regions. The graph at right shows the spectral absorbance of chlorophyll extracted from two leaf samples using 80% acetone. From the diagram, it can be seen that chlorophyll has absorbance peaks in the blue (400-500nm) and red (600-700nm) regions, with no transmittance in the near-infrared region. To take advantage of this characteristic of chlorophyll, the SPAD-502 measures the absorbances of the leaf in the red and near-infrared regions. Using these two...
Open the catalog to page 2
All Konica Minolta Sensing Americas catalogs and technical brochures

Archived catalogs

Compare up to 10 products