Catalogs

>

TM-KPC Production System Kitagawa TM Series rotary tables with KPC high precision chucks
Catalog excerpts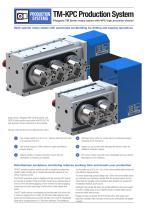 PRODUCTION SYSTEMS TM-KPC Production System Kitagawa TM Series rotary tables with KPC high precision chucks Multi spindle rotary tables with automated workholding for drilling and tapping operations Image shows a Kitagawa TM2100 dual spindle and TM3100 triple spindle rotary tables with KPC43C100 High precision chucks mounted on to each spindle. Part Nos: TM2100.KPC-001A & TM3100.KPC-001A 1 High rotation speed up to 83.3 min-1 allowing takt time to be kept to an absolute minimum. 2 High cutting torque of 180Nm allows for rapid machining of complex shapes. 3 Multiple spindles increases production time to allow for preparation for reloading to complete. 4 Dedicated rotary joints per spindle allow for automated loading/ unloading of the workrpiece. 5 System can be provided with dedicated tail stocks to allow for additional workpiece support. 6 KPC series chucks come with three repeatability accuracy options depending on your workpiece. Simultanious workpiece machining reduces working time and boosts your production TM-KPC production systems provide you with an excellent manufacturing amplifier option enabling you to increase the production capacity of your vertical machining centre. The TM-KPC production system is supplied with high precision KPC chucks as mounted as standard. These pneumatic chucks have a gripping range of 3mm to 87mm for external gripping or 6mm to 99mm for internal gripping ensuring you can grip a wide range of small shaft or plate shaped work pieces. The KPC chucks ensure the workpieces are held securely in the chuck with a maximum gripping force of 7.6kN. The TM rotary table rotates the work pieces with an indexing accuracy of 60 seconds and 5 seconds repeatability along with a clamping torque of 117Nm when stationary. The workpieces can be rotated up to 83.3 min-1 to be in the correct position quickly before the next drilling or tapping process. The mono-block body, compact design and 110mm low centre height ensure you maximise your machining envelope. Both the chucking system and the rotary table are operated using pneumatics alone therefore no requirement for additional hydraulic power packs. Dedicated multi-spindle tail stocks can provide additional work piece support and with a cutting torque of up to 180Nm ensures complex shapes can be produced quickly with accuracy. Kitagawa Europe can provide the KPC Chucks with a wide range of jaw types from standard, high or pie jaws to ensure your work pieces are gripped correctly.
Open the catalog to page 1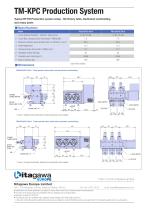 TM-KPC Production System Typical RT-TM Production system setup - NC Rotary table, Dedicated workholding and rotary joints Specifications Model 3 Maximum Rotation Speed (FANUC Spec. at 3000min ) (min ) 5 Clamping torque (Pneumatic 0.5MPa) (N.m) 6 Allowable vertical load (kg) 7 Allowable work inertia (kg.m2) 1 Chuck gripping diameters - External / Internal (mm) 2 Chuck Max. clamping Force (Pneumatic 0.7MPa) (kN) -1 * approximate weights TM2100.KPC-001A - Dual spindle rotary table with pneumatic workholding * shown in additional axis specification, M signal specification also available...
Open the catalog to page 2
All Kitagawa Europe catalogs and technical brochures

Compare up to 10 products