Catalogs

>

RT-ACC Production Systems Kitagawa rotary tables with Pneumatic Collet Chucks suited for long shaft workpieces
RT-ACC Production Systems Kitagawa rotary tables with Pneumatic Collet Chucks suited for long shaft workpieces


2

Pages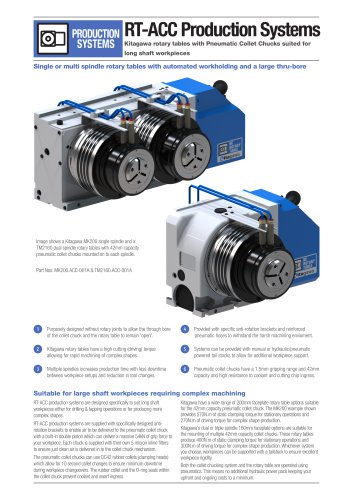 Catalog excerpts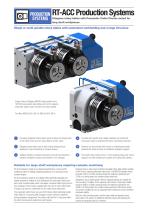 PRODUCTION SYSTEMS RT-ACC Production Systems Kitagawa rotary tables with Pneumatic Collet Chucks suited for long shaft workpieces Single or multi spindle rotary tables with automated workholding and a large thru-bore Image shows a Kitagawa MK200 single spindle and a TM2160 dual spindle rotary tables with 42mm capacity pneumatic collet chucks mounted on to each spindle. Part Nos: MK200.ACC-001A & TM2160.ACC-001A 1 Purposely designed without rotary joints to allow the through bore of the collet chuck and the rotary table to remain 'open'. 2 Kitagawa rotary tables have a high cutting (driving) torque allowing for rapid machining of complex shapes. 3 Multiple spindles increases production time with less downtime between workpiece setups and reduction in tool changes. 4 Provided with specific anti-rotation brackets and reinforced pneumatic hoses to withstand the harsh machining envioment. 5 Systems can be provided with manual or hydraulic/pneumatic powered tail stocks to allow for additional workpiece support. 6 Pneumatic collet chucks have a 1.5mm gripping range and 42mm capacity and high resistance to coolant and cutting chip ingress. Suitable for large shaft workpieces requiring complex machining RT-ACC production systems are designed specifically to suit long shaft workpieces either for drilling & tapping operations or for producing more complex shapes. RT-ACC production systems are supplied with specifically designed antirotation brackets to enable air to be delivered to the pneumatic collet chuck with a built-in double piston which can deliver a massive 54kN of grip force to your workpiece. Each chuck is supplied with their own 5 micron inline filters to ensure just clean air is delivered in to the collet chuck mechanism. The pneumatic collet chucks can use DC42 rubber collets (clamping heads) which allow for 10 second collet changes to ensure minimum downtime during workpiece changeovers. The rubber collet and the O-ring seals within the collet chuck prevent coolant and swarf ingress. Kitagawa have a wide range of 200mm faceplate rotary table options suitable for the 42mm capacity pneumatic collet chuck. The MK200 example shown provides 570N.m of static clamping torque for stationary operations and 270N.m of driving torque for complex shape production. Kitagawa's dual or triple spindle 160mm faceplate options are suitable for the mounting of multiple 42mm capacity collet chucks. These rotary tables produce 400N.m of static clamping torque for stationary operations and 300N.m of driving torque for complex shape production. Whichever system you choose, workpieces can be supported with a tailstock to ensure excellent workpiece rigidity. Both the collet chucking system and the rotary table are operated using pneumatics. This means no additional hydraulic power pack keeping your upfront and ongoing costs to a minimum.
Open the catalog to page 1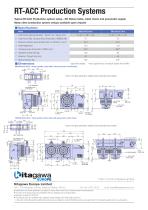 RT-ACC Production Systems Typical RT-ACC Production system setup - NC Rotary table, collet chuck and pneumatic supply Many other production system setups available upon request 1 Collet Chuck gripping diameters - Round / Hex / Square (mm) 2 Collet Chuck Max. clamping Force (Pneumatic 0.68MPa) (kN) 3 Maximum Rotation Speed (FANUC Spec. at 3000min ) (min ) 5 Clamping torque (Pneumatic 0.5MPa) (N.m) 6 Allowable vertical load (kg) 7 Maximum Through hole (mm) * approximate weights **when supplied with an air-hydraulic booster with 0.45MPa MK200.ACC-001A - Single spindle rotary table with...
Open the catalog to page 2
All Kitagawa Europe catalogs and technical brochures

Compare up to 10 products