Catalogs

>

N6700 Low-Profile Modular Power System (MPS) and N67XX DC Power Modules
Catalog excerpts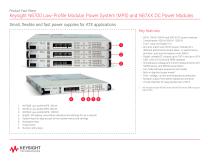 Product Fact Sheet Keysight N6700 Low-Proile Modular Power System (MPS) and N67XX DC Power Modules Small, lexible and fast power supplies for ATE applications Key features – – – – N6700B Low-proile MPS, 300 W N6701A Low-proile MPS, 600 W N6702A Low-proile MPS, 1200 W Bright LCD display, view status indicators and settings for all 4 outputs System keys for easy access to front panel menus and settings Navigation keys Output keys Numeric entry keys 50 W, 100 W, 300 W and 500 W DC power modules 3 mainframes: 400 W, 600 W, 1200 W True 1-rack unit height (1U) Mix-and-match over 30 DC power modules of 4 different performance levels: Basic, hi-performance, precision, and source/measure units (SMU) Stable, reliable DC outputs up to 150 V and up to 50 A USB, LAN (LXI Core) and GPIB standard Simultaneous voltage and current measurements with N6760 series, and N6780 series SMUs List mode software sequencer (arb mode) Built-in digitizer (scope mode) 1 Over- voltage, current and temperature protection Multiple-output front panel display and controls Virtual channels for easy parallel up to 100 A All modules except N6760 series and N6780 series SMUs require Option 054.
Open the catalog to page 1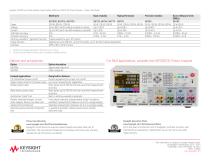 Keysight | N6700 Low-Profile Modular Power System (MPS) and N67XX DC Power Modules - Product Fact Sheet Basic modules High performance Precision modules Source Measure Units Up to 350 V (with multiple modules in series) Up to 150 V Up to 100 A (with two 50A modules in parallel) Up to 20A Arbitrary waveform2 generator function Create waveforms up to 512 points Scope function: Digitizes at up to 200 kHz, up to 512 k points, up to 18-bits (module dependent) 1. Module and range dependent; best accuracy shown 2. Code must be written by the user. Examples available online Option Option...
Open the catalog to page 2
All KEYSIGHT TECHNOLOGIES catalogs and technical brochures

Archived catalogs

Compare up to 10 products