Catalogs

>

M9155/6/7C and M9155/6/7CH40 DC to 26.5/40 GHz PXI Hybrid Switch Modules
Catalog excerpts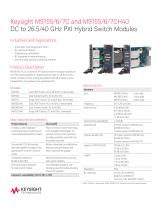 Industries and Applications - Automatic Test Equipment (ATE) - RF communications - Engineering verification - RF parametric measurements - Mid and high density switching systems Product Description M9155/6/7C is a series of PXI hybrid switch modules based on the PXI Hybrid platform. Operating from DC to 26.5/40 GHz, these modules come with guaranteed 0.03 dB insertion loss repeatability throughout the operating life. Models M9155C Dual SPDT Switch, DC to 26.5 GHz, Unterminated M9156C Dual Transfer Switch, DC to 26.5 GHz M9157C Single SP6T Switch, DC to 26.5 GHz, Terminated M9155CH40 Dual SPDT Switch, DC to 40 GHz, Unterminated M9156CH40 Dual Transfer Switch, DC to 40 GHz M9157CH40 Single SP6T Switch, DC to 40 GHz, Terminated Product features Your benefit A readily scaled integrated Peace of mind in switch technology switching solution to satisfy your from Keysight Technologies, Inc. unique application platform needs who has a proven track record for providing versatile, quality RF and microwave switches Guaranteed 0.03 dB insertion Reduce downtime for recalibration, loss repeatability throughout the improve testing efficiency and operating life of up to 10 million hence maximize throughput cycles Unmatched isolation of Maximize measurement accuracy 60 dB at 26.5 GHz and system flexibility Soft front panel is available The embedded graphical user for each switch module interface ease the trouble-shooting of your PXI systems Connector compatibility: PXI-H, PXI-1, cPCI Specifications Hardware Size M9155C/CH40 1 slot wide 0.57 dB at 18 GHz 0.70 dB at 26.5 GHz 1.1 dB at 40 GHz Insertion loss repeatability < 0.03 dB Operating life 5 million cycles for M9155C and M9155/6/7CH40 2 million cycles for M9155/6/7C Typical operating life 10 million cycles for M9155C and SMA (f) for M9156/7C 2.92 mm (f) for M9155/6/7CH40 Note: *Refer to data sheet 5990-6269EN for detailed technical specifications.
Open the catalog to page 1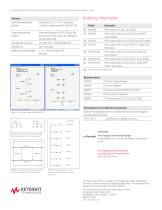 02 | Keysight | M9155/6/7C and M9155/6/7CH40 DC to 26.5/40 GHz PXI Hybrid Switch Modules - Flyer Software Software development Visual Studio, C, C++, C#, Visual Basic, platform LabVIEW, LabWindows/CVI, MATLAB, VEE Supported operating Microsoft Windows XP SP3, (32-bit), Win- systems dows Vista, (32-bit and 64-bit ) Windows 7 (32-bit and 64-bit) Included device drivers IVI-COM, IVI-C, LabVIEW, MATLAB Included GUI Soft front panel Application code examples C, C++, C#, Visual Basic,VEE, MATLAB Model Description 0 M9155C PXIh Coaxial Switch, DC-26.5 GHz, Dual SPDT, Unterminated...
Open the catalog to page 2
All KEYSIGHT TECHNOLOGIES catalogs and technical brochures

Archived catalogs

Compare up to 10 products