Catalogs

>

Keysight Trade-In N9040B UXA X-Series Signal Analyzers
Catalog excerpts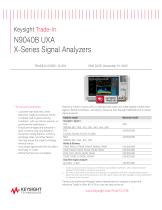 Keysight Trade-In N9040B UXA X-Series Signal Analyzers TRADE-IN CODE: 12-018 * Terms and Conditions: –– ustomer warrants that, when C delivered, Trade-In products will be complete1 and in good working condition2, with no interior, exterior, or performance modification. –– ctual percentages and amounts in A local currency may vary based on the option configurations, currency exchange rates, and other factors that may cause the credit to change without notice. –– purchase agreement (PA) will affect A the Trade-In credit. –– ental Partners are not eligible. R Receive a credit* of up to 40% or USD $40,000 when you trade eligible models from Agilent, Rohde & Schwarz, and others, toward a new Keysight N9040B UXA X-Series signal analyzer. Trade-In model Keysight / Agilent PXA: N9030A-503, -508, -513, -526, -543, -544, -550 PSA: E4440A, E4446A, E4447A, E4448A MXA: N9020A-503, -508, -513, -526 Rohde & Schwarz FSW8, FSW13, FSW26, FSW43, FSW50, FSW67 FSU8, FSU26, FSU43, FSU46, FSU50, FSU67 FSV3, FSV7, FSV13, FSV30, FSV40 FSVR7, FSVR13, FSVR30, FSVR40 Any other signal analyzer Any other ≥ 3 GHz 1.  Trade-In products will include, at a minimum, all hardware, software, and component parts needed for the Trade-In products to operate. 2.  All parts of the Trade-In products will operate in accordance with their original specifications, pass their start up performance tests, and be free of major cosmetic damage. Current calibration on the unit is not required. Contact an authorized Keysight sales representative to request a quote and reference Trade-In offer #12-018 or view the deal online at:
Open the catalog to page 1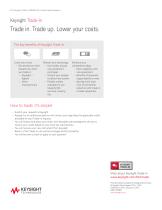 02 | Keysight | Trade-In N9040B UXA X-Series Signal Analyzers Keysight Trade-In Trade in. Trade up. Lower your costs. The key benefits of Keysight Trade-In Lower your costs –– Get attractive credit toward new when you trade in: –– Keysight  / Agilent –– Other manufacturers Refresh your techno­ogy l –– Use credits toward new equipment purchases –– Stretch your budget to afford new sooner –– Flexible credits available for use towards SW, services, training etc. Enhance your compete­tive edge –– More capability with new equipment –– Benefits of improved supportability on new –– Savings from...
Open the catalog to page 2
All KEYSIGHT TECHNOLOGIES catalogs and technical brochures

Archived catalogs

Compare up to 10 products