Catalogs

>

Build Dependable PCB Test Stations with the Agilent E5063A PCB Analyzer
Catalog excerpts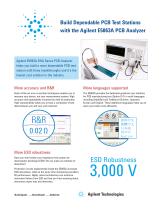 Build Dependable PCB Test Stations with the Agilent E5063A PCB Analyzer Agilent E5063A ENA Series PCB Analyzer helps you build a more dependable PCB test station with three breakthroughs and it's the lowest cost solution in the industry. More languages supported State-of-the-art error correction techniques enables you to measure your device, not your measurement system. High accuracy and repeatability increase the yield of production. High reproducibility helps you to have a correlation of test data between you and your end customer. The E5063A provides the dedicated graphical user interface for PCB manufacturing test (Option 011) in multi languages including Simplified and Traditional Chinese, Japanese, Korean and English. These additional languages helps you to solve your tasks more efficiently. More ESD robustness Have you ever broken your impedance test system by electrostatic discharge (ESD)? Do you make an estimate of downtime? Protection circuits implemented inside the E5063A increases ESD robustness, while at the same time maintaining excellent RF performance. Highly robust architecture can minimize instrument failure from ESD and free you from worrying about instrument repair fees and downtime.
Open the catalog to page 1
• Dedicated graphical user interface for PCB manufacturing test • Impedance (TDR) and return loss (S-parameter) measure- ment capability in one-box • Frequency upgradability • State-of-the-art error correction techniques • Multi-lingual user interface • High ESD robustness: 3 kV (IEC801-2 Human Body Model) • Up to four ports with the addition of U1810B USB switches The PCB analyzer consists of an E5063A ENA Series network analyzer with Option 011 (Time domain analysis/Test Wizard). The E5063A provides frequency domain measurement capability and Option 011 adds time domain analysis capabil-...
Open the catalog to page 2
All KEYSIGHT TECHNOLOGIES catalogs and technical brochures

Archived catalogs

Compare up to 10 products