Catalogs

>

Boost Your Bench's Memory – For Free!
Catalog excerpts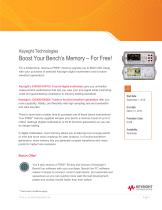 Keysight Technologies Boost Your Bench's Memory – For Free! For a limited time, receive a FREE* memory upgrade (up to $600 USD value) with your purchase of selected Keysight digital multimeters and function/ waveform generators: Keysight's 34465A/34470A Truevolt digital multimeters give you unrivalled measurement performance that lets you view your true signal while minimizing noise and guaranteeing compliance to industry-leading standards. Keysight's 33500B/33600A Trueform function/waveform generators offer you more capability, fidelity, and flexibility with high sampling rate and bandwidth and ultra-low jitter. There's never been a better time to purchase one of these bench instruments! Your FREE* memory upgrade will give your bench a memory boost of up to 2 million readings (digital multimeters) or 64 M (function generators) so you can do deeper testing. In digital multimeters, more memory allows you to data log over a longer period of time and store many readings for later analysis. In function/waveform generators, more memory lets you generate complex waveforms with many points for higher time resolution. Start date: September 1, 2018 End date: March 31, 2019 Promotion Code: 6.028 Availability: Worldwide Bonus Offer! You'll also receive a FREE* 90-day trial license of Keysight's BenchVue software with your purchase. BenchVue PC software makes it simple to connect, control instruments, and automate test sequences so you can quickly move past the test development phase and access results faster than ever before. *Terms and Conditions apply
Open the catalog to page 1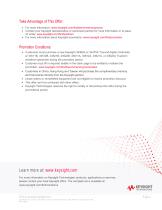 Take Advantage of This Offer: • For more information: www.keysight.com/find/benchmemorypromo • Contact your Keysight representative or authorized partner for more information or to place an order: www.keysight.com/find/partners • For more information about Keysight promotions: www.keysight.com/find/promotion Promotion Conditions: • Customers must purchase a new Keysight 34465A or 34470A Truevolt digital multimeter or 33511B, 33512B, 33521B, 33522B, 33611A, 33612A, 33621A, or 33622A Trueform waveform generator during the promotion period. • Customer must fill in required details in the claim...
Open the catalog to page 2
All KEYSIGHT TECHNOLOGIES catalogs and technical brochures

Archived catalogs

Compare up to 10 products