Catalogs

>

RS15X
Catalog excerpts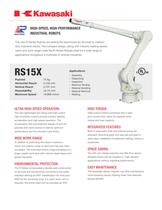 HIGH-SPEED, HIGH-PERFORMANCE INDUSTRIAL ROBOTS The new R-Series Robots are setting the benchmark for all small to medium duty industrial robots. The compact design, along with industry leading speed, reach and work range make the R-Series Robots ideal for a wide range of applications throughout a multitude of diverse industries. RS15X Payload Horizontal Reach Vertical Reach Repeatability Maximum Speed Assembly Dispensing Inspection Machine Tending Material Handling Material Removal Welding ULTRA HIGH-SPEED OPERATION HIGH TORQUE The new lightweight arm along with high-output High-output motors combined with a rigid high-revolution motors provide industry leading arm construction, allow for superior wrist acceleration and high-speed operation. The torque and load capacity. acceleration rate automatically adjusts to suit the payload and robot posture to deliver optimum INTEGRATED FEATURES performance and the shortest cycle times. Built-in pneumatic lines and internal wiring are WIDE WORK RANGE In addition to extending the robot's maximum reach, the rotation range of each axis has also been standard. Mounting pads and taps are provided to allow easy installation of additional cabling, tubing or equipment. increased. The extended motion range translates to a SPACE SAVING larger usable work area with minimal dead-space and The slim arm design requires very little floor space. greater flexibility. Multiple robots can be installed in "high-density" ENVIRONMENTAL PROTECTION applications without impeding performance. The R-Series incorporates a double-seal construction EASY MAINTENANCE on all axes and the electrical connections are water- The Kawasaki design requires very little maintenance resistant offering an IP67 classification for wrist and while boasting ndustry leading mean time between IP65 for the remaining axes. If a wash-down arm is failures (MTBF). required, the entire robot can be provided as IP67.
Open the catalog to page 1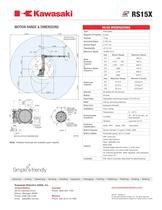 RS15X MOTION RANGE & DIMENSIONS Maximum Speed Vertical Reach Working range based on point P Degrees of Freedom Horizontal Reach Maximum Torque Wrist Load Capacity Maximum Speed Work Envelope (degrees) & Maximum Speed (degrees/s) Motion Range Kawasaki Standard Body Color Adjustable mechanical stopper JT1/JT2/JT3 Hard Stops Floor, ceiling Temperature Environmental Conditions Built-in Harness Pneumatic piping (ø10 x 2 lines) IP67 entire arm Linear track options Riser (300/600 mm) Base plate Double/single solenoid valves (4 units max.) Internal wiring (14 wires inside robot arm) Air cleaning...
Open the catalog to page 2
All Kawasaki Robotics GmbH catalogs and technical brochures

Archived catalogs

Compare up to 10 products