Catalogs

>

MC series
Catalog excerpts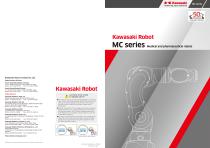 Kawasaki Powering your potential Kawasaki Robot MC series Medical and pharmaceutical robots Kawasaki Heavy Industries, Ltd. Robot Business Division Tokyo Head Offlce/Robot Division 1-14-5, Kaigan, Minato-ku, Tokyo 105-8315, Japan Phone: +81-3-3435-2501 Fax: +81-3-3437-9880 Akashi Works/Robot Division 1-1, Kawasaki-cho, Akashi, Hyogo 673-8666, Japan Phone: +81-78-921-2946 Fax: +81-78-923-6548 Global Network Kawasaki Robotics (USA), Inc. 28140 Lakeview Drive, Wixom, MI 48393, U.S.A. Kawasaki Robotics (UK) Ltd. Unit 4 Easter Court, Europa Boulevard, Westbrook Warrington Cheshire, WA5 7ZB, United Kingdom Phone: +44-1925-71-3000 Fax: +44-1925-71-3001 Kawasaki Robotics GmbH Im Taubental 32, 41468 Neuss, Germany Phone: +49-2131-34260 Fax: +49-2131-3426-22 Kawasaki Robotics Korea, Ltd. 43, Namdong-daero 215beon-gil, Namdong-gu, Incheon, 21633, Korea Phone: +82-32-821-6941 Fax: +82-32-821-6947 Kawasaki Robotics (Tianjin) Co., Ltd. 1-2/F, Building 6, No.19 Xinhuan Road, TEDA, China Phone: +86-22-5983-1888 Fax: +86-22-5983-1889 Kawasaki Motors Enterprise (Thailand) Co., Ltd. (Rayong Robot Center) 119/10 Moo 4 T.Pluak Daeng, A.Pluak Daeng, Rayong 21140 Thailand Phone: +66-38-955-040-58 Fax: +66-38-955-145 https://robotics.kawasaki.com/ Kawasaki Robot CAUTIONS TO BE TAKEN TO ENSURE SAFETY •For those persons involved with the operation / service of your system, including Kawasaki Robot, they must strictly observe all safety regulations at all times. They should carefully read the Manuals and other related safety documents. •Products described in this catalogue are general industrial robots. Therefore, if a customer wishes to use the Robot for special purposes, which might endanger operators or if the Robot has any problems, please contact us. We will be pleased to help you. •Be careful as Photographs illustrated in this catalogue are frequently taken after removing safety fences and other safety devices stipulated in the safety regulations from the Robot operation system. ] Materials and specifications are subject to change without notice.
Open the catalog to page 1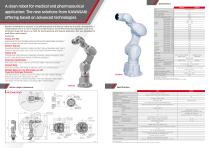 Robotics Automation is required in the pharmaceutical and medical industries to avoid a human error, a contamination risk or a risk of exposure to High Potency Active Pharmaceutical Ingredient, such as an anticancer drugs. MC series is a robot for pharmaceutical and medical application that was developed to meet these requirements. Features Human arm-like Human arm-like joint configurations provide minimal dead space and allow robot to rotate and operate in constricted workspaces. Sanitary features Streamlined design features a smooth surface, high performance seals, and a chemical...
Open the catalog to page 2
All Kawasaki Robotics GmbH catalogs and technical brochures

Archived catalogs

Compare up to 10 products