Catalogs

>

Kawasaki Vision System
Catalog excerpts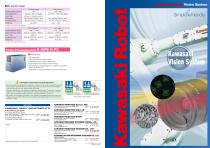 Vision System *Contact us for a special type of sennsor. Simple friendly *Contact us for a special type of sennsor. Vision Processing Unit K-HIPE-R-PC ■Features • PC-based type • Fast recognition by multi-core CPU • Selectable memory medea, HDD or SSD • Connectable multi-cameras or multi-sensors • Connectable to various equipment by Ethernet, DeviceNet, Serial I/O, Parallel I/O • Available 0.3~5 mega-pixel GigE camera and camera link CAUTIONS TO BE TAKEN TO ENSURE SAFETY • For those persons involved with the operation / service of your system, including Kawasaki Robot, they must strictly observe all safety regulations at all times. They should carefully read the Manuals and other related safety documents. • Products described in this catalogue are general industrial robots. Therefore, if a customer wishes to use the Robot for special purposes, which might endanger operators or if the Robot has any problems, please contact us. We will be pleased to help you. • Be careful as Photographs illustrated in this catalogue are frequently taken after removing safety fences and other safety devices stipulated in the safety regulations from the Robot operation system. MGMT.SYS. RvACOM ISO9001 REGISTERED FIRM DNVCertificationB.V.,THE NETHERLANDS MGMT.SYS. RvA C D24 ISO14001 REGISTERED FIRM DNV Certification B.V.,THE NETHERLANDS ISO certified in Akashi Works. KAWA5AKI HEAVY INDUSTRIES, LTD. www.khi.co.jp/robot/ Tokyo Head Office/Robot Division World Trade Center Bldg., 4-1, Hamamatsu-cho 2-chome, Phone: +81-3-3435-6908 Minato-ku, Tokyo 105-6116, Japan Fax: +81-3-3437-9880 Akashi Works/Robot Division 1-1, Kawasaki-cho, Akashi, Hyogo 673-8666, Japan Phone: +81-78-921-2946 28140 Lakeview Drive, Wixom, MI 48393, U.S.A. Phone: +1-248-446-4100 KAWASAKI ROBOTICS (UK) LTD. Units 6 & 7, Easter Court, Europa Boulevard, Westbrook Phone: +44-1925-71-3000 Warrington WA5 7ZB, United Kingdom Fax: +44-1925-71-3001 KAWASAKI ROBOTICS GmbH 29 Sperberweg, 41468 Neuss, Germany www.kawasakirobot.de 69BL-1LT, 638, Gojan-Dong, Namdong-Gu, Incheon, Phone: +82-32-821-6941 C-1-9, No.41, 5th avenue, TEDA, Tianjin Phone: +86-22-5983-1888 KAWASAKI MOTORS ENTERPRISE (THAILAND) CO., LTD. (ROBOT DIVISION) 129 Rama 9 Road, Kwaeng Huay-Kwang, Phone: +66-2-247-7935-8 Khet Huay-Kwang, Bangkok 10310, Thailand Fax: +66-2-247-7934 * Materials and specifications are subject to change without notice.
Open the catalog to page 1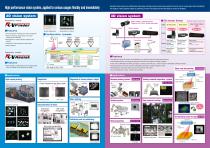 High performance vision system, applied to various usages flexibly and immediately 2D vision system Kawasaki's Vision system is a multifunctional, high-speed, and high-precision visual sensing system that can be used on a wide range of sites immediately. The adoption of Vision systems enables no positioning of works to be required and the initial setup per work to be simplified. Recognition module ■Features • Fast recognition and High accuracy recognition • Pattern matching, Binarization, and Color recognition processing • Recognition of various objects (shapes and colors) • Inspection,...
Open the catalog to page 2
All Kawasaki Robotics GmbH catalogs and technical brochures

Archived catalogs

Compare up to 10 products