Catalogs

>

Kawasaki Robot duAro 2
Catalog excerpts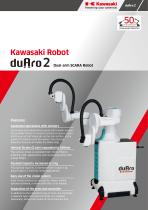 K Kawasaki Powering your potential Kawasaki Robot Dual-arm SCARA Robot Features:Coexistent operations with workers Co-existing and collaborative works with human workers are possible thanks to various functions to assure safety and the use of soft materials on the arm surface. In the event of a collision with the worker, the collision detection function will make the duAro stop. Vertical Stroke (Z-axis) expanded to 550mm The vertical stroke is extended from 150 to 550mm, enabling wider applications such as packing boxes with a large height. Payload Capacity increased to 3 kg duflro ■ -C Kftvnxfcl The payload capacity is increased from 2 kg to 3 kg (total 6 kg for 2 arms) for wider applications. Easy use of the vision system Since vision sensors can be used by simply adding optional software, a vision controller is not needed. Separation of the arms and controller In addition to the integrated type of arms and controller, a separate type (arms and controller are installed separately) allows free layout of the production line.
Open the catalog to page 1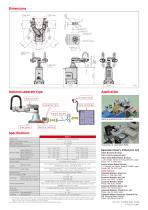 Optional separate type Application Specifications Robot harness Packing products prior to shipment Inspection of assembled PCBs *1: At the time of power activation, rush current generates in the range of several to tens of several times of the normal current. Due to such rush current, the supply voltage could drop. It is recommended to select a power supply capacity with enough room to cope with such instantaneous current change. *2 : Please consult with us for use of specifications other than specified above. Kawasaki Heavy Industries, Ltd. Robot Business...
Open the catalog to page 2
All Kawasaki Robotics GmbH catalogs and technical brochures

Archived catalogs

Compare up to 10 products