Catalogs

>

FD/ZD/MD Series Palletizer
Catalog excerpts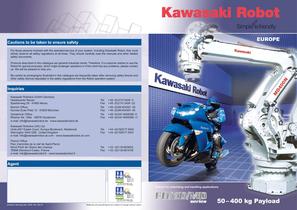 50– 400 kg Payload For those persons involved with the operation/service of your system, including Kawasaki Robot, they must strictly observe all safety regulations at all times. They should carefully read the manuals and other related safety documents. Products described in this catalogue are general industrial robots. Therefore, if a customer wishes to use the Robot for special purposes, which might endanger operators or if the robot has any problems, please contact us. We will be pleased to help you. Be careful as photographs illustrated in this catalogue are frequently taken after removing safety fences and other safety devices stipulated in the safety regulations from the Robot operation system. Cautions to be taken to ensure safety Inquiries Agent printed in Germany Apr. 2008 • No. GE110 Materials and specifications are subject to change without notice. Kawasaki Robotics GmbH Germany Headquarter Neuss: Tel. Sperberweg 29 · 41468 Neuss Fax Munich Office: Tel. Konrad-Zuse-Platz 12 · 81829 München Fax Osnabrück Office: Tel. Rheiner Str. 195a · 49078 Osnabrück Fax e-mail: info@kawasakirobot.de · www.kawasakirobot.de Kawasaki Robotics (UK) Ltd. Units 6&7 Easter Court, Europa Boulevard, Westbrook Tel. Warrington WA5 5ZB · United Kingdom Fax e-mail: info@kawasakirobot.uk.com · www.kawasakirobot.uk.com French Office: Parc d'activites de la clef de Saint-Pierre Rond Point de l'Epine des champs Tel. 78996 Elandourt Cedex, France Fax e-mail: info@kawasakirobot.fr · www.kawasakirobot.fr EUROPE Robots for palletizing and handling applications + 49 - (0)21313426 - 0 + 49 - (0)21313426 - 22 + 49 - (0)89 454591- 30 + 49 - (0)89 454591- 45 + 49 - (0)5414069398 - 0 + 49 - (0)5414069398 - 11 + 44 - (0)1925 713000 + 44 - (0)1925 71 3001 + 33- (0)130 68 9522 + 33- (0)130 68 9139
Open the catalog to page 1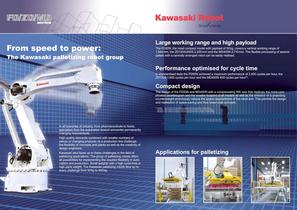 Large working range and high payload The FD50N, the most compact model with payload of 50 kg, covers a vertical working range of 1,944 mm, the ZD130S/250S 2,200 mm and the MD400N 2,710 mm. The flexible processing of several pallets with a centrally arranged robot can be easily realised. Performance optimised for cycle time In standardised tests the FD50N achieved a maximum performance of 2,400 cycles per hour, the ZD130S 1,800 cycles per hour and the MD400N 400 cycles per hour*¹. Compact design The design of the FD50N and MD400N with a compensating fifth axis that replaces the more...
Open the catalog to page 2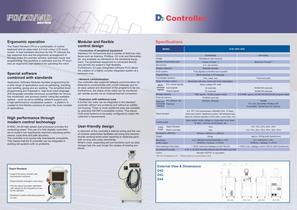 Ergonomic operation Specifications The Teach Pendant (TP) is a combination of control keyboard and an easy-read, 6.4 inch colour LCD touchscreen. A new hardware structure for the TP reduces the key response time and the ergonomic arrangement of the keys helps the operator achieve optimised inputs and programming. The workflow is optimised and the TP becomes an ergonomic user platform for operating the robot Special software combined with standards Application Software Modules facilitate programming for a wide range of applications such as palletising, handling, spot welding, gluing and arc...
Open the catalog to page 4
All Kawasaki Robotics GmbH catalogs and technical brochures

Archived catalogs

Compare up to 10 products