Catalogs

>

DLU-5494N-7
Catalog excerpts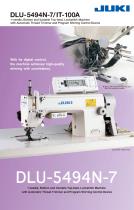 DLU-5494N-7/IT-100A 1-needle, Bottom and Variable Top-feed, Lockstitch Machine with Automatic Thread Trimmer and Program Shirring Control Device With its digital control, the machine achieves high-quality shirring with consistency. Stitch guide (H062) and separating plate (Z061) are optionally available. DLU-5494N-7 1-needle, Bottom and Variable Top-feed, Lockstitch Machine with Automatic Thread Trimmer and Program Shirring Control Device
Open the catalog to page 1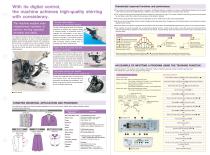 With its digital control, the machine achieves high-quality shirring with consistency. The process steps and shirring amounts are displayed on the IT-100A panel to offer improved operability. The machine has been provided with an alternating sewing function, which works in such a way that once the machine performs thread trimming after completion of the sewing of one sleeve, it automatically starts the sewing of the other sleeve (according to the mirrored data). Input example of the smoothing function Smoothing amount Conditions Step 1 : Shirring amount set at 2mm. Step 2 : Shirring amount...
Open the catalog to page 2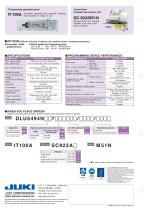 Enhanced operability and operation efficiency help broaden its range of use. IT-supporting operation panel Control box/ Compact servomotor unit SC-922/M51N Energy-saving and reduced vibration and noise have been achieved. I OPTIONS (With its full array of options, the machine further increases productivity.) • Auto-lifter AK85 • Stitch guide and Separating plate (pedal-driven) Stitch guide H062 Part No. : MAH062000A0 Separating plate Z061 Part No. : MAZ061000A0 ■ PROGRAMMING DEVICE PERFORMANCE Model name *"sti/min" stands for "Stitches per Minute. ■ WHEN YOU PLACE ORDERS Please note...
Open the catalog to page 3
All Juki Industrial Sewing Machine catalogs and technical brochures

Compare up to 10 products