Catalogs

>

Campus SOS Phones JR321-SC-SP
Catalog excerpts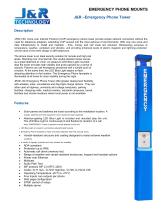 EMERGENCY PHONE MOUNTS J&R -Emergency Phone Tower Description JR321-SC Voice over Internet Protocol (VoIP) emergency phone tower provide simple network connection without the need for telephone adaptors, extending VoIP access into the most arduous of environments. With only one voice and data infrastructure to install and maintain - time, money and call costs are reduced. Withstanding extremes of temperature, weather, vandalism and vibration, and providing enhanced levels of electro magnetic and lightning protection are the basis of the entire design of J&R telephones. The phone tower is an ideal security solution for remote and high-risk areas. Standing over nine feet tall, this vandal-resistant tower serves as a great deterrent to crime. An always-lit LED Blue Light mounted atop the tower provides high visibility and gives passers-by a sense of security. Patrons can call emergency personnel with a simple push of a button. At the same time, the LED Blue Light begins to flash, attracting attention to the location. The Emergency Phone faceplate is illuminated at all times for clear visibility during the night. JR321-SC Emergency Phone Tower offer greater deployment flexibility with wireless, solar, surveillance and day/night charge options. They are often used at highway, university and college campuses, parking facilities, shopping malls, medical centers, industrial campuses, transit facilities and remote locations where local power is not available. • Solar panels and batteries are sized according to the installation location. A charger, batteries and other equipment mount inside the tower.(optional) • Attention-getting LED Blue Light is included and mounted atop the unit. The LED Blue Light is continuously lit and flashes for duration of a call when "EMERGENCY" button is pressed to draw attention to the unit. • LED Blue Light is housed in a protective polycarbonate housing • Emergency Phone faceplate is made of brushed stainless steel with security screw. • Vandal-resistant structure and coating designed to resist extreme weather conditions • A variety of signage, graphics and color choices are available • ADA-compliant • Automatic call divert (memory list) • Range of weather and vandal resistant enclosures, keypad and handset options • Power over Ethernet • Audio Path Test • Codec:G.711A/u, G.7231 high/low, G.729, G.722,G.726 • Operating Temperature -20°C to +75°C • Four inputs, two outputs per phone • Web page configuration • DTMF control of relays
Open the catalog to page 1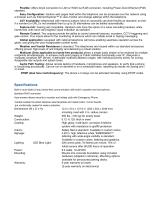 Flexible: offers direct connection to LAN or WAN via RJ45 connector, including Power-Over-Ethernet (PoE) standard. Easy Configuration: intuitive web pages held within the telephone can be accessed over the network using a browser such as Internet Explorer™ to view monitor and change settings within the telephone. 24/7 Availability: telephones with memory buttons have an automatic call divert facility as standard, so that if a number (or URL) is not available then to up to 20 alternatives can be dialled automatically. Feature-rich: hearing aid compatible. Handset units have the option of a...
Open the catalog to page 2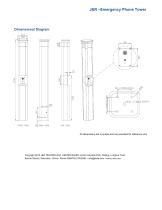 FRONT VIEW BACK VIEW All dimensions are in inches and are provided for reference only. Copyright 2012 J&R TECHNOLOGY LIMITED Build#1 ,Junhe Industrial Park, Dalang, Longhua Town Bao'an District, Shenzhen, China • Phone 0086755 27322952 • info@jrtele.com • www.jrtele.com.
Open the catalog to page 3
All J&R Technology Ltd catalogs and technical brochures

Compare up to 10 products