Catalogs

>

MiniMix®
Catalog excerpts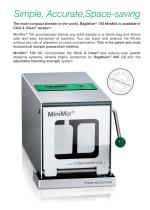 Simple, Accurate,Space-saving The most compact blender in the world, BagMixer® 100 MiniMix is available in Click & Clean® version ! MiniMix® 100 automatically blends any solid sample in a sterile bag and allows safe and easy extraction of bacteria. You can pipet and analyse the filtrate without any risk of alteration or cross contamination. This is the safest and most economical sample preparation method. MiniMix® 100 CC incorporates the Click & Clean® and side-by-side paddle stopping systems, already highly acclaimed on BagMixer® 400 CC and the adjustable blending strength syst
Open the catalog to page 2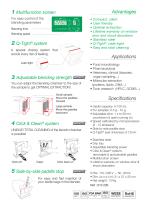 1 Multifunction screen 3 Adjustable blending strength You can adapt the blending chamber to the size of the sample to get OPTIMAL EXTRACTION ! 2 Q-Tight® system A special closing system that avoids every risk of leaking. Leak-tight • Compact, silent • User friendly • Optimal extraction • Lifetime warranty on window door and shock absorbers • Stainless steel • Q-Tight®: Leak-tight • Easy and total cleaning Applications • Food microbiology • Pharmaceutical • Veterinary, clinical (biopsies, organ sampling...) • Molecular extraction (proteins, lipids, DNA...) • Toxin research (HPLC, GCMS...) 4...
Open the catalog to page 3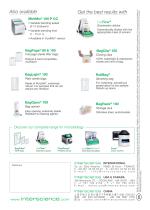 • Variable blending speed (3-12 strokes/s) Gravimetric dilutor Automatically dilutes with the appropriate mass of solvant. • Variable blending time (1 - 1h or ∞) • Available in CoolMix® version Closing clips Robust & food compatible, multilayer. 100% watertight & waterproof, closes any kind of bag. Plain sterile bags Made of PolySilk®, extremely robust. For samples that do not require any filtration. ® RollBag® in PolySilk for Sampling & Mixing Full page sterile filter bags Breveté - Patented product - France & Foreign Countries - ® Registred trademarks by interscience Breveté - Patented...
Open the catalog to page 4
All Interscience catalogs and technical brochures
Archived catalogs
Compare up to 10 products