Catalogs

>

BagMixer®
Catalog excerpts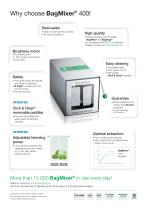 Best-seller • Sold in more than 90 countries • 35 years experience High-quality • Optimal analysis with the sterile BagFilter® and BagPage® • In compliance with ISO 7218 standard • Made in France by interscience Brushless motor • No wearing parts • - 50% power consumption • Extra silent Safety • The handle closes the blender and starts the blending • Q-Tight®: no leaks from the top of the bag • Security drip tray PATENTED Click & Clean® removable paddles • Remove the paddles and easily clean the blending chamber PATENTED Adjustable blending power • Up to 28 kg of pressure: the hardest...
Open the catalog to page 2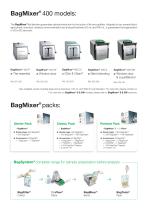 The BagMixer® lab blender guarantees optimal extraction by the action of its two paddles. Adapted to any sample (food, agricultural, chemical, medical, environmental) to be analyzed between 50 mL and 400 mL, it guarantees homogenization in 30 to 60 seconds. BagMixer® 400 CC > Click & Clean® Ref. 024 230 BagMixer® 400 S > Silent blending Ref. 025 000 BagMixer® 400 SW > Window door & LiquidSensor Ref. 025 100 Also available: packs including bags and accessories; 100 mL and 3500 mL lab blenders. For more info, please contact us. For more info on BagMixer® S & SW models, please refer to...
Open the catalog to page 3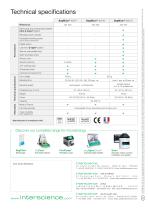 Your local distributor SOUTH-EAST ASIA 1541 Orchard road - 09-01 Liat Towers - SINGAPORE 238881 .COm T: +65 6933 1389 - +65 8549 1217 - Email: sales.asia@interscience.com
Open the catalog to page 4
All Interscience catalogs and technical brochures
Archived catalogs
Compare up to 10 products