Catalogs

>

GIS-AP 200/120
Catalog excerpts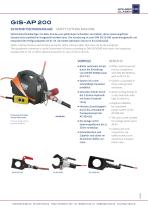 GIS-AP 200 SICHERHEITSSCHNEIDANLAGE SAFETY CUTTING MACHINE Sicherheitsschneidanlage mit Akku-Pumpe zum gefahrlosen Schneiden von Kabeln, deren spannungsfreier Zustand nicht zweifelsfrei festgestellt werden kann. Die Ausrüstung ist nach DIN EN 50 340 zusammengestellt und entspricht den Prüfgrundsätzen GS ET-23. Sie bietet optimalen Schutz im Kurzschlussfall. Safety cutting machine with battery pump for safely cutting cables that may not be de-energized. The equipment comprises a useful assortment of items according to DIN EN 50340 and meets the inspection standard GS ET-23. It offers optimal protection in case of short-circuits. • Bietet optimalen Schutz • Offers optimal protecdurch die Einhaltung tion by compliance von DIN EN 50340 sowie with DIN EN 50340 as GS ET-23. well as GS ET-23. • System ist in drei Schneidkopf-Varianten erhältlich. • Schneller Schnitt durch die 2-Stufen-Hydraulik mit hoher Förderleistung. Druckverlauf-Anzeige mittels Manometer. Pressure gauge shows pressure gradient. • System is available in three cutting head variations. • Quick cutting thanks to 2-step hydraulic with high oil delivery. • Höchste Zuverlässigkeit durch das redundante Pumpenkonzept der AP 200-GIS. • The unit is safe useable for voltage levels up to • Die Anlage ist für 30 kV. Spannungsebenen bis zu 30 kV einsetzbar. • Cutting unit and • Schneidsystem und Zubehör sind sicher im Aluminium-Koffer verstaut. accessories are safely stowed in an aluminium transportation case. • Highest reliability by redundant pump system of the AP 200-GIS.
Open the catalog to page 1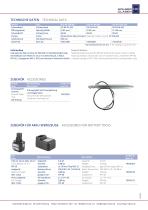 TECHNISCHE DATEN TECHNICAL DATA Artikel Schneidkopf Offnungsweite Schneidkraft Pumpe Arbeitsdruck Artikel-Nr. Cutting Head Opening Width Cutting Force Pump Working Pressure Item No. Hydraulische Akku-Pumpe / Hydraulic battery pump AP 200-GIS 625 bar 73513500 73513600 73513700 Lieferumfang Scope of Delivery Hydraulische Akku-Pumpe AP 200-GIS mit Handfernbedienung, Hydraulic battery pump AP 200-GIS with hand remote control, cutting Schneidkopf nach Wahl mit 10,1 m Isolierschlauch, 2 Akkus head according to choice with 10.1 m isolation hose, 2 batteries IPP-30, IPP-30, 2 Ladegerate...
Open the catalog to page 2
All HOLGER CLASEN catalogs and technical brochures

Archived catalogs

Compare up to 10 products