Catalogs

>

LEICA CLOUDWORX? FOR SMARTPLANT
Catalog excerpts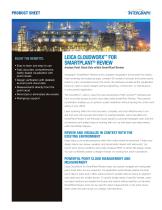 PRODUCT SHEET ENJOY THE BENEFITS: • Easy to learn and easy to use • Fast, accurate, comprehensive, reality-based visualization with point clouds • Design verification with detailed, as-built point cloud data • Measurements directly from the point cloud • Minimized or eliminated site revisits • Workgroup support LEICA CLOUDWORX™ FOR SMARTPLANT® REVIEW Analyze Point Cloud Data within SmartPlant Review Intergraph® SmartPlant® Review is the complete visualization environment for interactively reviewing and analyzing large, complex 3D models of process and power plants. Used by many companies around the world, the software provides all the visualization tools you need to review designs during engineering, construction, or maintenance – in one powerful application. The CloudWorx™ add-on uses the Leica Geosystems HDS Cyclone™ software platform to provide access to point cloud data inside SmartPlant Review. This powerful combination enables you to perform a plant walkdown without leaving the comfort and safety of your office! Laser scanning offers the most accurate, complete, and cost-effective way to collect and work with as-built information for existing facilities. Leica CloudWorx for SmartPlant Review is the first point cloud solution to provide Intergraph users with the convenience and added value of working with rich, as-built laser scan data directly within SmartPlant Review. REVIEW AND VISUALIZE IN CONTEXT WITH THE EXISTING ENVIRONMENT Users enjoy a virtual site presence within their native review environment. Project and design teams can review, visualize, and dynamically interact with real-world, "asfound" point cloud conditions and a fully-rendered PDS® or Smart 3D design model. You can confidently assess a design's impact on construction and/or operations. POWERFUL POINT CLOUD MANAGEMENT AND MEASUREMENT Leica CloudWorx for SmartPlant Review users can quickly navigate and manipulate point cloud data. For any viewpoint, the application automatically selects the best set of data to load, plus it offers ready access to all data without having to segment scan data sets into smaller blocks. To quickly isolate areas of specific interest, users can apply sections and spatial limit boxes and recall a defined partition on demand. SmartPlant Review tools can be used for direct measurement on the point cloud, either within the point cloud or to design CAD elements.
Open the catalog to page 1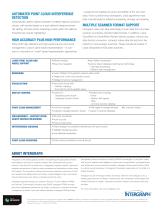 – preserves the highest accuracy and fidelity of the raw scan AUTOMATED POINT CLOUD INTERFERENCE DETECTION data. From a performance standpoint, Leica algorithms treat data volumetrically for efficient processing, storage, and sharing. Automatically detect clashes between modeled objects and point clouds, with results based on a user-defined tolerance thresh- MULTIPLE SCANNER FORMAT SUPPORT old setting. All scan points indicating a clash within the defined Intergraph users can take advantage of scan data from any laser threshold are visually highlighted. scanner via industry-standard data...
Open the catalog to page 2
All Hexagon PPM catalogs and technical brochures

Compare up to 10 products