Catalogs

>

ISOGEN ®
Catalog excerpts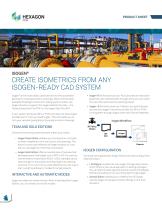 PRODUCT SHEET Create Isometrics from Any Isogen-ready CAD System Isogen® is the most widely used software for the automated generation of piping isometric drawings. Most commercially available 3D design solutions for piping systems either use Intergraph® Isogen Isogen Workflow 3D Piping Design directly or support the Isogen data file formats – the Piping Compo- nent File (PCF) or the Isogen Data File (IDF). If your system produces IDFs or PCFs, but does not have Isogen bundled with it, then you need Isogen. This will enable you to turn your valuable piping data into piping isometric drawings. TEAM AND SOLO EDITIONS Choose the licensing model that best meets your needs: • Isogen Team Edition enables you to process an unlimited num- ISOGEN CONFIGURATION Two tools are supplied with Isogen Editions to help configure the required output. • I-Configure includes the new Isogen Configuration panel, which offers a new visual approach to setting up Isogen. You can alter ber of pipelines, from any source, into drawings. This option is the settings and see the results immediately before proceeding to more cost-effective for larger projects, or if you plan to use Isogen run your drawings through Isogen. for more than one project. • Isogen Solo Edition offers a counted pool of licenses that decreases each time Isogen runs a PCF or IDF. You can buy license tokens in batches of 500 or 1,000, making sure you have enough for the project, and allowing for any testing, revisions, or re-runs. This is a cost-effective, low-risk way to start using the software. It is ideal for small projects. INTERACTIVE AND AUTOMATIC MODES ISOGEN provides two mode choices. When installing either ISOGEN Edition, you can install one or both modes: • Isogen-R (formerly known as I-Run) provides an interactive graphical user interface (GUI) through which you can select the input files and view the resulting output. • Isogen-S (formerly known as I-Serve) runs automatically as a service. Isogen-S monitors a folder for IDFs or PCFs, running them through Isogen when new files are detected. • Symbol Editor enables you to redefine the 2D shape used by Isogen to represent certain fittings on the final isometric.
Open the catalog to page 1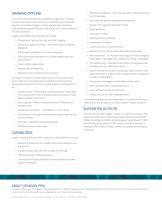 DRAWING OPTIONS The isometrics automatically created by Isogen are unscaled and the tube sections are shrunk or stretched to give the best layout on the paper. Isogen's unique system logic produces clear, practical • Continuation/nozzle connection points shown by dotted pipeline indication • Additional materials – The user can add in materials to the bill of materials pipeline layouts, including cross-overs, based on industry practice. • User-defined spool prefixing and numbering Isogen's automatic drawing options include: • Support for hygienic pipework fittings • Dimensions, text...
Open the catalog to page 2
All Hexagon PPM catalogs and technical brochures

Compare up to 10 products