Catalogs

>

CloudWorx PDS®
Catalog excerpts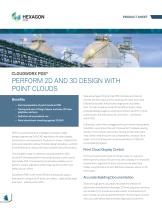 PRODUCT SHEET CLOUDWORX PDS® PERFORM 2D AND 3D DESIGN WITH POINT CLOUDS Benefits • Fast manipulation of point clouds in PDS • Tracing and auto-fitting of pipes, surfaces, 2D lines, polylines, and arcs • Definition of accurate tie-ins • Point cloud clash-checking against 3D CAD PDS® is a comprehensive, intelligent computer-aided design/engineering (CAD/CAE) application for plant design, construction, and operations. Production-driven, it helps EPCs and owner operators deliver the best design possible - and do it more efficiently to reduce the total installed cost of the project. The CloudWorx add-on uses the Leica Geosystems HDS Cyclone™ software platform to provide access to point cloud data inside PDS. This powerful combination enables you to perform a plant walkdown without leaving the comfort and safety of your office! CloudWorx PDS® is the most efficient and popular plug-in software for using as-built point cloud data - captured by laser scanners - directly within PDS. Take advantage of the familiar PDS interface and tools to shorten the learning curve for working with laser scan data. Efficiently visualize and process large point cloud data sets. You can create accurate 2D and 3D as-builts, check proposed designs against existing conditions, perform critical construction and fabrication QA, and more ... all directly within PDS. In the past, users often struggled with point cloud manipulation. CloudWorx overcomes this with its powerful TruSpace viewing window. This intuitive, panoramic viewing window lets users "see" better what the point cloud represents, and acts like a super-control to drive point cloud visualization in PDS with unprecedented speed. Point Cloud Display Control To focus on particular areas of interest, easy-to-use tools define specific areas of 3D point clouds to display. For improved visualization, segments of point clouds can be selectively hidden using fences and user-defined cutplanes, slices, or 3D limit boxes. Accurate Building Documentation Slices through point cloud data facilitate the creation of planimetric and elevation drawings. 2D lines, polylines, and arcs can be best-fit to provide accurate results. Cross sections of point clouds can also be plotted directly, introducing an entirely new, accurate deliverable and reducing project cycle time.
Open the catalog to page 1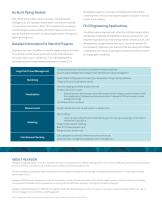 As-Built Piping Models Pipe fitting tools enable users to quickly create accurate, intelligent, as-built piping models, best-fit to the point clouds, in conjunction with tools in PDS. Tie-in locations for proposed retrofit designs are also easily identified. Planar surfaces can also be modeled from point clouds using CloudWorx fitting and region growing tools. Detailed Information for Retrofit Projects Engineers can use CloudWorx in retrofit design projects to check for potential interferences with point clouds that represent actual as-built or as-is conditions. The unparalleled detail...
Open the catalog to page 2
All Hexagon PPM catalogs and technical brochures

Compare up to 10 products