Catalogs

>

CADWORX ®
Catalog excerpts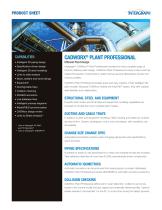 PRODUCT SHEET CADWORX® PLANT PROFESSIONAL • Intelligent 3D piping design Efficient Plant Design • Specification-driven design Intergraph® CADWorx® Plant Professional includes the most complete range of • Intelligent 3D steel modeling tools for effective plant design. CADWorx Plant Professional is easy to learn and has • Links to steel analysis helped thousands of corporations create revenue-earning deliverables quicker and • Stairs, ladders and hand railings more accurately. CADWorx Plant Professional enables quick and easy creation of fully intelligent 3D • Ducting/cable trays plant models. Because CADWorx models are AutoCAD®-based, they offer unparal- • Collision checking leled flexibility and collaboration. • ISOGEN isometrics • Live database links STRUCTURAL STEEL AND EQUIPMENT • Intelligent process diagrams Powerful and intuitive structural steel and equipment modeling capabilities are • Model/P&ID synchronization • CADWorx design review • Links to Stress Analysis** included to provide the most complete plant models. DUCTING AND CABLE TRAYS In addition to steel and equipment modeling, HVAC ducting and cable tray routines are also built-in. Square, rectangular, round, and oval shapes, with transitions, are * Links to Intergraph PV Elite® and PV Fabricator® ** Links to Intergraph® CAESAR II® CHANGE SIZE CHANGE SPEC Automated and intuitive routines make changing piping sizes and specifications quick and easy. PIPING SPECIFICATIONS Hundreds of ready-to-use specifications in metric and imperial formats are included. They reference data files of more than 60,000 parametrically-driven components. AUTOMATIC ISOMETRICS Automatic isometrics can be produced from piping layouts or project databases. CADWorx Plant Professional includes ISOGEN® for automatic isometric production. COLLISION CHECKING CADWorx Plant Professional offers built-in clash detection. Collisions can be detected in the current model and also against any externally referenced files. Options enable clashes to be reported "on-the-fly" or at any time during the design process.
Open the catalog to page 1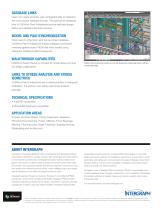 DATABASE LINKS Users can create accurate, user-configurable bills of material in the most popular database formats. The optional live database links in CADWorx Plant Professional provide real-time design status and valuable information backup. MODEL AND P&ID SYNCHRONIZATION When used in conjunction with the live project database, CADWorx Plant Professional enables intelligent component checking against project P&IDs that were created using Intergraph CADWorx P&ID Professional. WALKTHROUGH CAPABILITIES CADWorx Design Review is included for model review and true 3D design collaboration....
Open the catalog to page 2
All Hexagon PPM catalogs and technical brochures

Compare up to 10 products