Catalogs

>

With EPC control High Sensitivity HPLC chromatography mass spectrometry test machine (GLPC/GC)
With EPC control High Sensitivity HPLC chromatography mass spectrometry test machine (GLPC/GC)


3

Pages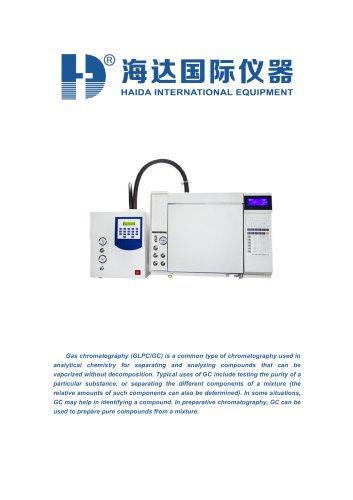 Catalog excerpts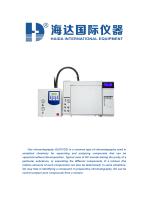 Gas chromatography (GLPC/GC) is a common type of chromatography used in analytical chemistry for separating and analyzing compounds that can be vaporized without decomposition. Typical uses of GC include testing the purity of a particular substance, or separating the different components of a mixture (the relative amounts of such components can also be determined). In some situations, GC may help in identifying a compound. In preparative chromatography, GC can be used to prepare pure compounds from a mixture.
Open the catalog to page 1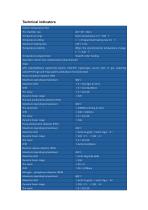 Technical indicators Column temperature box The chamber size Temperature range Temperature setting 1 ℃;Programmed heating rate 0.1 ℃ Maximum heating rate Temperature stability When the environmental temperature change 1 ℃, 0.01 ℃ Temperature programmed Seventh order heating Operation column loss compensation (dual channel) Inlets S/SL (split/splitless) injector,On-column inlet,PTV injector,gas source inlet or gas switching valve,P/T (Purge-and-Trap) system,solid phase microextraction Flame Ionization detector (FID) Maximum operating temperature Detection limit Dynamic linear range Thermal...
Open the catalog to page 2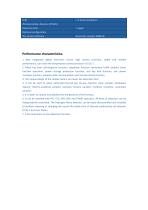 1. New integrated digital electronic circuit, high control precision, stable and reliable performance, can reach the temperature control precision of 0.01 °C. 2. Mixer has boot self-diagnosis function, stopwatch function convenient traffic (stable), timer function operation, power storage protection function, and key lock function, anti power mutation function, network data communication and remote control function. 3. The unique design of the sample system can lower the detection limit. 4. It can be used to select automatic/manual gas six-way injection valve sampler, headspace injector,...
Open the catalog to page 3
All HAIDA EQUIPMENT CO. catalogs and technical brochures

Archived catalogs

Compare up to 10 products