Catalogs

>

Vulcane Express Torch Ref. 470
Catalog excerpts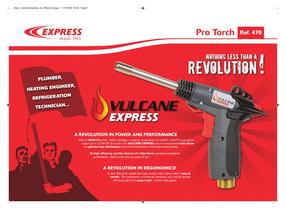 Argu_VulcaneExpress_en_Mise en page 1 17/12/09 18:42 Pagel HEATING ENGINEER, A REVOLUTION IN POWER AND PERFORMANCE With its MAP//Pro (Ref. 2400) cartridge, a heating temperature of 2,400°C (4352°F) and power output up to 3.5 kW (0 28 nozzle), the VULCANE EXPRESS uses its wrap-around turbo flame to optimise heat distribution round the circumference of the pipe being heated. Its high efficiency and the absence of a false flame guarantee exceptional performance - down to the very last gram of gas ! Its light 400 gram weight and high comfort index rating make it easy to handle. The ergonomie bi-material handgrip and overall design efficiency give it its unique style : it looks really good!
Open the catalog to page 1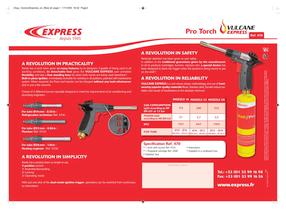 Argu_VulcaneExpress_en_Mise en page 1 17/12/09 18:42 Page2 Pro Torch Ref. 470 A REVOLUTION IN PRACTICALITY Rarely has a torch been given so many features by its designers. Capable of being used in all working conditions, its detachable foot gives the VULCANE EXPRESS user complete flexibility and also a free-standing base for when both hands are being used elsewhere ! Built-in piezo ignition, immediately reversible for working in all positions, patented self-maintenance system. When required, the Piezo and injector can be changed without any tools whatsoever and in just a few seconds. Choice...
Open the catalog to page 2
All GUILBERT EXPRESS catalogs and technical brochures

Compare up to 10 products