Catalogs

>

Sales Argumentation Vulcane Express'kits
Catalog excerpts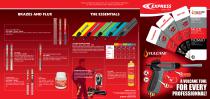 THESE ACCESSORIES HAVE BECOME THE VULCANE EXPRESS "ESSENTIALS", AS THEY ALLOW PARTICULARLY USEFUL DEVELOPMENTS HOT/COLD WATER PIPES Ref. 500100 - 501100 - 502820 This range of professional brazes, sold by weight or stick-cut, is ideal for hot/cold water copper tubes. GAS PIPES Ref. 506050 - 540010 These two phosphorous copper (6 %) and silver copper (40 %) products are approved by ATG (GDF – French gas company). They are delivered by 500 and 100 g batches. COATED BRASS HEATING SYSTEM PIPES Ref. 508102 - 508103 Delivered in 1 kg packages, these two versatile products are suitable for iron/steel and comprise a coated flux. VULCANE EXPRESS BURNERS Ref. 4714 - 4722 - 4728 - 4735 - 4750 Express has developed a full range of burners designed for the Vulcane Express torch (flame or flameless torches), which covers all types of uses in fields such as plumbing, heating, air conditioning, sealing, etc. The operator will just need to replace the burner in one quick and easy operation. POWER INJECTOR EXTENSION HOSE Ref. 4770 You will no longer have any problems reaching your working surfaces, even the most remote corners of the facilities to be treated! This reference is designed to be used with the Vulcane Express range. PIPES AND MECHANICAL PARTS Ref. 510815 Specially designed for iron and steels, this stick made of copper steel wire has a melting temperature of 1 400 °C (2552 °F). FLUX Ref. 105100 This product is ideal for stripping, it can also be used when assembling copper metals for sanitary and gas pipes. Ref. 2400 Thanks to the performance of this MAP//Pro™ propene gas cylinder, the Vulcane Express gas torch can be used by heating and air conditioning professionals. Guilbert Express 33 avenue du Maréchal de Lattre de Tassigny F - 94127 FONTENAY-SOUS-BOIS Cedex info@express.fr Guilbert Express, Registered with the Trade Register of Créteil (France) under No. 572 055 812. Actual products may differ from photographs. Guilbert Express reserves the right to change the features of the products described without notice. © Express. All rights reserved. The photos may not be reproduced, modified or transmitted in whole or in part, in any form or using any method whatsoever, without prior written approval from Guilbert EXPRESS.
Open the catalog to page 1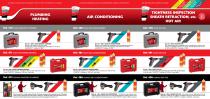 YOU ARE NOW WELL EQUIPPED TO WORK! COLOURED BURNERS AND KITS TO DIFFERENTIATE TRADES AND CONTENTS… A SMART COLOUR SYSTEM HAS MADE IT EASY TO SPOT THE PRODUCT YOU WANT. PLUMBING HEATING SOLO SANITARY PLUMBING Grey kit - Offer: SOLO SANITARY PLUMBING Discover all the essentials a plumber needs! Vulcane torch, burner for brazing copper tubes (Ø 22 mm) ref. 4722 and MAP//Pro™ cartridge, ref. 2400. MULTI PLUMBING/HEATING AIR CONDITIONING SOLO AIR CONDITIONING TIGHTNESS INSPECTION SHEATH RETRACTION, etc. HOT AIR Grey kit - Offer: SOLO AIR CONDITIONING Discover all the essentials for refrigeration...
Open the catalog to page 2
All GUILBERT EXPRESS catalogs and technical brochures

Compare up to 10 products