Catalogs

>

Pneumatic feeders A
Catalog excerpts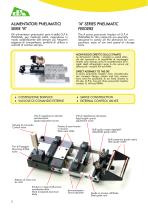 ALIMENTATORI PNEUMATICI SERIE "A" "A" SERIES PNEUMATIC FEEDERS Gli alimentatori pneumatici serie A della G.P.A ITALIANA, per materiali sottili, rispondono in modo soddisfacente alle sempre più frequenti esigenze di compattezza, praticità di utilizzo e velocità di cambio stampo. The A series pneumatic feeders of G.P.A ITALIANA for thin materials are specially designed to satisfy all the demands for compactness, ease of use and speed of change tools. MONTAGGIO DIRETTO SULLO STAMPO Le dimensioni ridotte, i semplici e rapidi attacchi dei comandi e la possibilità di montaggio diretto sullo...
Open the catalog to page 2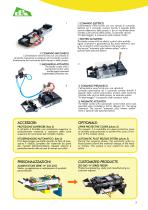 2) COMANDO MECCANICO L'alimentatore viene fornito con una valvola di comando meccanica a pressione ed il comando avviene direttamente dal movimento dello stampo o della pressa. 2) MECHANICAL ACTUATION The feeder comes with a mechanical control valve and the signal command is generated by the press ram. 1) COMANDO ELETTRICO L'alimentatore viene fornito con una valvola di comando elettrica ed il comando avviene tramite il segnale dalla camma elettronica della pressa o da un microinterruttore montato sulla camma della pressa. La seconda valvola "kit depinzaggio" è accessoria (vedi accessori...
Open the catalog to page 3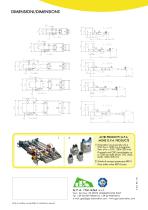 ALTRI PRODOTTI G.P.A. MORE G.P.A. PRODUCTS 1) Alimentatori sia pneumatici che a CNC fino a 1200 mm di larghezza (foto: alim. a CNC 1200x1200 mm). Pneumatic and CNC clamp feeders up to 1200 mm width (photo: CNC clamp feeder 1200x1200 mm) G.P.A. ITALIANA s.r.l. Via L. Da Vinci, 25 22074 LOMAZZO (CO) ITALY Tel. +39 02 96779406 Fax +39 02 96370473 e-mail: gpa@gpa-automation.com - www.gpa-automation.com Diritti di modifica riservati/Right of modification reserved 2) Valvole di sicurezza presse serie MEP-A Press safety valves MEP-A series.
Open the catalog to page 4
All G.P.A. ITALIANA catalogs and technical brochures

Compare up to 10 products