Catalogs

>

Products for Pulp and Paper
Catalog excerpts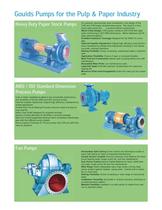 Goulds Pumps for the Pulp & Paper Industry i i Ail customer requirements were considered in the design of the 3180 and 3185 paper stock/process pump. The resuit is a true world class pump line . a product without compromise. Heavy Duty Paper Stock Pump World Class Design 3185 pumps comply to ISO 5199 with eight sizes conforming to ISO 2858 dimensions Metric fasteners and fit-tings used throughout Excellent Hydraulic Coverage Designed for full 50/60 Hz cover-age. External Impeller Adjustment Original high efficiency and performance maintained by simple axial adjustment resulting in low...
Open the catalog to page 2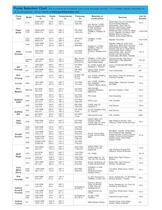 Pump Slection Chart This is a partial list of products used in p ail Goulds products. visit our website at www.gouldspumps.com ulp and paper services For comDlete. SDecific inform Pump Model Capacities Heads Tempratures Pressures Materials of Services Ask for Type to to to to construction Bulletin 3175 28000 GPM 6359 m'/h 320 ft 98 m 450°F 232° C 275 PSIG 1896 kPa Iran. Bronze, 316SS. Paper Stock thru 6% Consistency Dry End Broke Repulper. Hydropulper Blow Tank to Screens, Secondary/Tertiary Cleaner Feed and Rejects. Reclaimed Fiber. Couch Pit, Black Liquor, Digester Circulation. High...
Open the catalog to page 3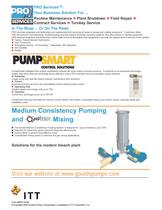 PRO Services TM i Your Business Solution For ... Routine Maintenance * Plant Shutdown $ Field Repair * Contract Services # Turnkey Service SERVICES In The Shop ... Or On The Road. PRO Services engineers and technicians are experienced with servicing ail types of pumps and rotating quipaient. Customers utilize PRO Services for commissioning, troubleshooting. and field repairs of pumps, pumping Systems, and other pices of rotating equipment. PRO Services engineers and technicians utilize state-of-the-art techniques and equipment to provide the highest level of service in the industry....
Open the catalog to page 4
All Goulds Pumps catalogs and technical brochures

Archived catalogs

Compare up to 10 products