Catalogs

>

Small Glass A-Frame
Catalog excerpts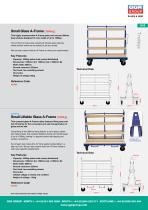 Sales & Hire Small Glass A-Frame [1000kg] This highly manoeuvrable A-Frame glass cart has two 280mm deep shelves designed to carry loads of up to 1000kg. Two of the four heavy duty compound wheels allow steering, whilst another wheel can be locked to act as a brake. We can also custom build an A-Frame to meet your requirements. Capacity: 1000kg (when load evenly distributed) Dimensions: 1600mm (l) x 1000mm (w) x 1600mm (h) Shelf width: 280mm Ground clearance: 245mm Two fixed, two swivelling wheels One brake Weight of stillage: 85kg Technical Data Reference Code Small Liftable Glass A-Frame [1000kg] This compact glass A-Frame trolley features lifting eyes and fork lift points for the convenient and safe transportation of glass around site. Comprising of two 280mm deep shelves to carry glass, plastic and metal sheets, this compact liftable A-frame can handle loads of up to 1000kg, making it a popular choice with glazing and window contractors. Comes with two lifting eyes Its compact size makes this A-Frame easily transportable in a high-roof van. We can also custom build an A-Frame trolley to meet your specific requirements. Technical Data Capacity: 1000kg (when load evenly distributed) Dimensions: 1600mm (l) x 1000mm (w) x 1600mm (h) Shelf width: 280mm Ground clearance: 220mm Two fixed, two swivelling wheels One brake Liftable stillage is tested and certified Weight of stillage: 110kg N.B: Frame dimensions are subject to slight change
Open the catalog to page 1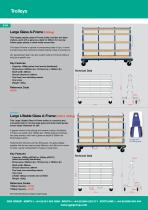 Large Glass A-Frame [1000kg] This hugely popular glass A-Frame trolley includes two deep shelves, each with a generous depth of 490mm for moving thicker glass panels or sheet metal around site. This large A-Frame is capable of transporting loads of up to 1 tonne and has heavy-duty compound wheels making it easy to manoeuvre. Our development team can also custom build an A-Frame trolley to meet your specific size. Capacity: 1000kg (when load evenly distributed) Dimensions: 2000mm (l) x 1410mm (w) x 1900mm (h) Shelf width: 490mm Ground clearance: 250mm Two fixed, two swivelling wheels One...
Open the catalog to page 2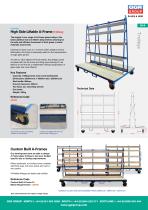 Sales & Hire High Side Liftable A-Frame [1500kg] The largest in our range of A-Frame glass trolleys, this latest addition has two 585mm deep shelves allowing for the safe and efficient movement of thick glass or sheet materials around site. Catering for loads of up to 1.5 tonnes (when weight is evenly distributed), this trolley is especially useful for the transportation of large glass panels. As with our other liftable A-Frame trolleys, this stillage comes complete with fork lift points and lifting eyes allowing it to be lifted by a fork lift truck or telehandler making transportation of...
Open the catalog to page 3
All GGR Group catalogs and technical brochures
Compare up to 10 products