Catalogs

>

Hydraulica 1000-B
Catalog excerpts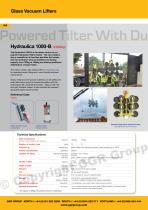 Glass Vacuum Lifters 29 Powered Tilter With Du Hydraulica 1000-B [1000kg] The Hydraulica 1000-B is the newer version of our popular Hydraulica 1000-A model. The new model is also a versatile ten to fourteen pad lifter that comes with two extension arms as standard, increasing capacity from 750kg to 1000kg and offering additional stabilisation of larger loads. This newer version also comes with two hydraulic rams for seamless power tilting and a user-friendly enclosed control panel. Glass, metal and non-porous materials can be safely and easily tilted from upright to horizontal position with the Hydraulica's 90° powered tilt function. Manual 135° left and right lockable rotation is also included as standard along with cable remote control. Reference Code Cable remote control as standard Optional Hydraulica wheeled trolley Optional radio remote control See page 62 for more information Technical Specifications Safe working load (smooth, clean surface at 60% vacuum) capacity: cups: Number of suction cups Suction cup Suction cup diameter GR tG igh yr op C © material properties: surface: example: dual circuit: Vacuum system pump: battery charger: Standard accessories Optional accessories black rubber, not abrasion resistant, heat resistant up to 100˚F gastight / non-porous smooth glass, plastic boards, ceramic plates, sheet metals, coated boards 177kg (with arms) (without arms) 135° manual left & right lockable 2 or 4 pumps, 2 vacuum reserve tanks 12v DC from rechargeable battery 110v/240v 50/60Hz single phase factory selectable 2 x extension arms with pads, cable remote control 2 x curved extension arms with pads (500kg capacity), wheeled stand, radio remote control, low marking pads * The capacity is 1000kg with extension arms and 14 pads fitted.
Open the catalog to page 1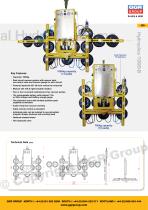 Sales & Hire Dual Hydraulic Tilt Cylinders • Capacity: 1000kg • Dual circuit vacuum system with reserve tank, ual Hydraulic Rams non-return valve and vacuum gauge for each circuit • Powered hydraulic 90° tilt from vertical to horizontal • Manual 135° left & right lockable rotation • Two or four on-board maintenance-free vacuum pumps • 12v rechargeable battery with integral 110v or 240v charger and battery energy gauge • Two extension arms with variable position pads supplied as standard • Audio-visual low vacuum warning • Cable remote control as standard • Individual pads can be isolated to...
Open the catalog to page 2
All GGR Group catalogs and technical brochures
Compare up to 10 products