Catalogs

>

GeoMax

>

X-Pad 365 Broschure
Catalog excerpts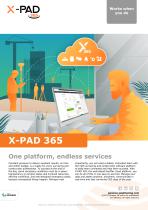 One platform, endless services Constant pressure to deliver excellent results, on time and within budget, is a reality for every surveying and construction professional. To succeed at the end of the day, some necessary conditions must be in place: transparency on project status and involved resources, efficient workflows, and well-designed emergency plans, because unexpected things happen. Perhaps most importantly, you will need a skilled, motivated team with the right surveying and construction software platform to keep them connected and help them succeed. With X-PAD 365, the web-based GeoMax cloud platform, you can do all of this in one easy-to-use tool. Manage your data and assets anytime, anywhere, communicate in real-time and stay connected 365 days of the year. PARTOF HEXAGON n ra © □ geomax-positioning.com ©2021 Hexagon AB and/or its subsidiaries and affiliates. All rights reserved. Visit our website to find your local distributor: geomax-positioning.com
Open the catalog to page 1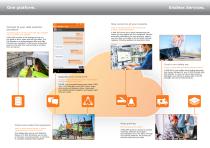 Endless Services. Connect to your data anytime, anywhere Frustrated about not having the right data available when and where it is needed? X-PAD 365 provides a File Manager giving you one place to store, share and edit your data. The File Manager is a bridge between office and field. Connect your company's X-PAD users, giving them access to the data they need anywhere, anytime, from any device. Cloud work makes the teamwork Want to make missing points or double measurements a thing of the past? The Collaborative Survey and Stakeout feature of X-PAD 365 allows you to work on the same...
Open the catalog to page 2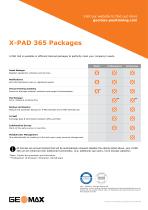 X-PAD 365 PackagesX-PAD 365 is available in different tailored packages to perfectly meet your company's needs OAll licenses are annual licenses that will be automatically renewed. Besides the options listed above, your X-PAD 365 can be enhanced with additional functionality, (e.g. additional sub-users, more storage capacity). *Basic: Product documentation and information **Professional: 10 GB space / Enterprise: 100 GB space SlQNets 0321 - 949585 en Copyright GeoMax AG. Illustrations, colours, product offerings, descriptions and technical specifications are not binding and may change...
Open the catalog to page 3
All GeoMax catalogs and technical brochures

Archived catalogs

Compare up to 10 products