Catalogs

>

ATEX rated temperature logger
Catalog excerpts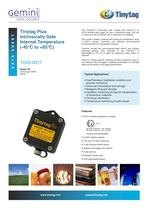 www.tinytag.info sales@tinytag.info The TGIS-0017 Intrinsically Safe Tinytag from Gemini is an ATEX certified data logger for use in hazardous areas. The unit is robust and self contained, with a reputation for reliability. This model is battery powered and measures temperature using a built-in sensor, providing cost effective environmental monitoring ideal for inaccessible locations. Features include two user-programmable alarms and multiple start/stop options. Data recorded by the TGIS-0017 is downloaded to PC via a cable; no expensive base station is required. Gemini's Tinytag Explorer software provides a powerful, easy to use interface with the loggers, enabling visualisation of recorded data and the ability to set logging parameters. Typical Applications • Gas/Petroleum installation condition and process monitoring • Chemical manufacture and storage • Weapons lifing and storage • Condition monitoring during the transportation of hazardous materials • Chemical sterilisation • Temperature monitoring of paint shops Features • ATEX certified temperature recorder • 16,000 reading capacity • Low cost PC cable download • 2 user-programmable alarms • Delayed and trigger-start options • 3 stop options • Antistatic, robust case • User-replaceable battery II 1 G Ex ia IIC T4 Ga (Ta = -30° to 40°C) Ex ia IIC T3 Ga (Ta = -30° to 75°C) Certificate: Sira 03ATEX2325X Tinytag Plus Intrinsically Safe Internal Temperature (-40°C to +85°C) TGIS-0017 Issue 19 14th August 2009 E&OE D A T A S H E E T
Open the catalog to page 1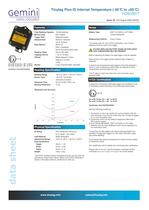 www.tinytag.info sales@tinytag.info Battery Type SAFT LS14250 or LST14250; Tekcell SBAA02P* Replacement Interval Every 2 years *To comply with the unit's ATEX certification, one of these batteries must be used in this logger. DO NOT REPLACE BATTERY WHEN AN EXPLOSIVE GAS ATMOSPHERE MAY BE PRESENT Before replacing the battery the data logger must be stopped. Data stored on the logger will be retained after a battery is replaced. If used at low temperatures data loggers should be allowed to warm to room temperature before they are opened to avoid condensation forming inside the unit. The IP...
Open the catalog to page 2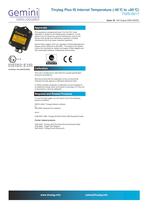 www.tinytag.info sales@tinytag.info To use this data logger you will require one of the following pieces of software: SWCD-0040: Tinytag Explorer software or SW-0500: Easyview Pro software and a CAB-0007-USB: Tinytag Ultra/Plus/View USB Download Cable Further related products: CAB-0007: Tinytag Ultra/Plus/View Serial Download Cable ACS-6000: Trigger Start Magnet SER-9530: Tinytag Plus/IS Service Kit Required and Related Products Calibration Tinytag Plus IS Internal Temperature (-40°C to +85°C) TGIS-0017 Issue 19: 14th August 2009 (E&OE) This unit is configured to meet Gemini's quoted...
Open the catalog to page 3
All Gemini Data Loggers (UK) catalogs and technical brochures

Compare up to 10 products