Catalogs

>

One 15TS
Catalog excerpts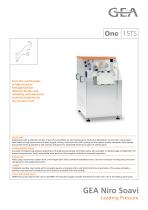 From the world leader in high pressure homogenization: absolute quality and reliability with advanced technical solutions for any process need. LIQUID END Engineered with a reduced number of parts for simplified use and maintenance, features a Monoblock construction compression head made of high performance Duplex forged SS alloy, machined with CNC tooling for the highest quality standards. Parts design and surface finish guarantee a safe sanitary execution for optimized cleaning-in-place of wetted parts. HOMOGENIZING VALVE Accurate homogenizing pressure adjustment through pneumatically controlled valve, also available in double stage configuration for process requirements. Easily replaceable wear parts in solid tungsten carbide for extended operation. POWER END Heavy duty construction power drive, with forged steel alloy crankshaft assembled into a cast iron crankcase housing the power end components, with splash lubrication. CASING Complete stainless steel casing with removable panels, enclosing motor and direct belt drive transmission. The casing includes a stainless steel terminal box/electrical panel directly accessible from the outside. TOOLS AND SPARE PARTS O&M manual and spare parts List on CD-ROM. The standard supply includes maintenance tools and a set of emergency spare parts.
Open the catalog to page 1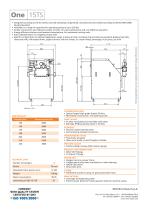 Technical specifications are not mandatory and subject to change without notice • Designed according to the EU safety rules (CE standards), engineered, manufactured and tested according to EN ISO 9001:2000 Quality Standard • Available in a range of capacities for operating pressure up to 250 bar • Simple construction and reduced number of parts, for easy maintenance and cost effective operation • Energy efficient solutions and reduced consumptions, for optimized running costs • Easy implementation in complete process lines • Specific configuration for defined application range in Dairy &...
Open the catalog to page 2
All GEA Mechanical Equipment Italia S.p.A. catalogs and technical brochures
Compare up to 10 products