Catalogs

>

ProSolar Power Station
Catalog excerpts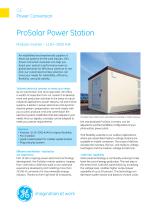 ProSolar Power Station Modular inverter – 1150–3000 kVA An established and experienced supplier of electrical systems for the wind industry, GE's Power Conversion business can help you boost your system's performance even as global demands for efficiency continue to rise. And, our customized turnkey solutions can meet your needs for availability, efficiency, flexibility, and grid stability. Tailored electrical systems to meet your needs As an automation and drive specialist, GE offers a wealth of expertise from our research & development and production activities in the areas of robust industrial applications, power stations, rail and marine systems. A leader in power electronics and dynamic reactive power compensation, we work closely with you to plan, produce, test and commission the electrical system installation that best adjusts to your needs. And, our logistics concepts can be adapted to meet your precise requirements. Features • odular (1150-3000 kVA) for higher flexibility M • re-installed P • iquid-cooled system for a better sealed inverter L • lug and play system P Efficient and flexible – backed by our experience Part of GE's ongoing power electronics technology development, the ProSolar inverter systems, ranging from 1150 kVA to 3000 kVA, build on our extensive experience developing and installing more than 30 GW of converters for the renewable energy industry. Thanks to their high level of modularity, A ProSolar Power Station is pre-assembled and available in mobile containers the standardized ProSolar inverters can be adjusted to suit the installation configuration of your photovoltaic power plant. That flexibility extends to our outdoor applications, where pre-assembled medium-voltage stations are available in mobile containers. The scope of delivery includes the inverters, the low- and medium-voltage switchgear, and the medium-voltage transformer. 1,500 VDC capability Solar panel technology is continually evolving to help lower the cost of energy production. The next step in this trend is the 1,500 VDC panel which, by increasing the voltage level, enables higher output power capability of up to 50 percent. This technology can decrease system losses and balance of plant costs.
Open the catalog to page 1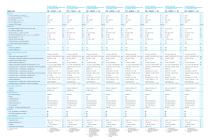 Model Code Input Side DC max. allowable input voltage Vdcmax DC rated input voltage Vdc,r DC MPP range Vmppmin - Vmppmax DC max. input current Idcmax Output Side AC rated grid voltage (transformer output, MV side) AC operating voltage range AC inverter rated power Pac,r, @Vac,r; Vmppmin - Vmppmax; @cosφ = 1 AC power factor range cosφ AC feed-in phases / connection phases AC rated inverter operating voltage Vac,r Efficiency Inverter max. efficiency System data (Power station e-house) Type Concrete / Light Steel Concrete / Light Steel Concrete / Light Steel Concrete / Light Steel Concrete /...
Open the catalog to page 2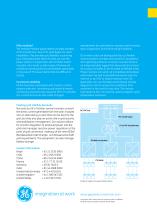 Why modular? The modular ProSolar power station includes inverters, a MV transformer and a MV switchgear for each installation. This provides you flexibility in planning your individual power plant and lets you use the power station in conjunction with ProSolar indoor inverters. As a result, a wide range of framework conditions can be quickly accommodated, particularly in the case of PV power plants that are difficult to access. Functional reliability All the functions associated with inverter control, setpoint selection, monitoring and optional remote monitoring are performed using the...
Open the catalog to page 3
All GE Motors catalogs and technical brochures

Archived catalogs

Compare up to 10 products