Catalogs

>

smorb
Catalog excerpts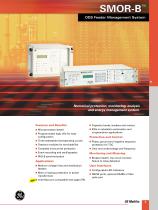 DDS Feeder Management System Numerical protection, monitoring, analysis and energy management system. Capacitor banks, busbars and motors Programmable logic I/Os for easy configuration IEDs in substation automation and co-generation applications Three selectable time/operating curves Drawout modules for serviceability Phase, ground and negative sequence protection for TOC Complete overcurrent protection Over and undervoltage and frequency Event recording and oscillography IRIG-B synchronization Medium voltage lines and distribution feeders Main or backup protection in power transformers Breaker health, trip circuit monitor, failure to close detection User Interfaces enerVista.com compatible (see page 275) RS232 ports, optional RS485 or fiber optic port
Open the catalog to page 1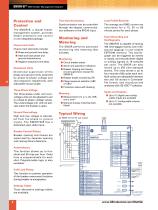 SMOR-B™ DDS Feeder Management System Protection and Control The SMOR-B, a digital feeder management system, provides feeder protection and control in one integrated package. Overcurrent Units Overcurrent elements include: s Phase and ground time delay s Hiset and loset phase and ground instantaneous s Negative sequence time delay Directional Units Time Synchronization Load Profile Recorder Synchronization can be controlled through the keypad, communication software or the IRIG-B input. The average and RMS current are calculated for a 15, 30 or 60 minute period for each phase. Event...
Open the catalog to page 2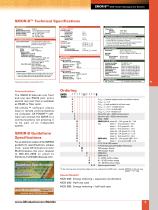 SMOR-B™ DDS Feeder Management System SMOR-B™ Technical Specifications METERING Frequency: Nominal phase current: Nominal ground current: Nominal voltage: Auxiliary voltage: 50/60 Hz 1 or 5 A (depending on model) 1 or 5 A (depending on model) 100/√3 – 220/√3 VAC 24 – 48 VDC, ±20% 110 – 250 VDC, ±20% COMMUNICATIONS Local communication: LCD alphanumeric display with two lines of 16 characters per line; 20 button frontal keypad Remote communication: (local or remote PC and communications net): Mode: half duplex Speed: 1200 – 19200 bps Physical media: RS232 (ports 1, 2 and 3) RS485 (port 3...
Open the catalog to page 3
All GE Grid Solutions catalogs and technical brochures

Compare up to 10 products