Catalogs

>

MultiNet
Catalog excerpts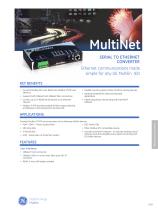 MultiNet SERIAL TO ETHERNET CONVERTER Ethernet communications made simple for any GE Multilin IED KEy BENEFITS • Converts Modbus RTU over RS485 into Modbus TCP/IP over Ethernet • Flexible mounting options allow retrofit to existing devices. • Supports both 10BaseT and 10BaseF fiber connections • Industrial hardened for utility and industrial applications • Connect up to 32 RS485 serial devices to an Ethernet network • Simple "plug & play" device setup with EnerVista™ software • Modbus TCP/IP provides multiple SCADA masters allowing simultaneous communications to the same IED • Other Modbus RTU compatible devices Media & Protocol Converters Provides Modbus TCP/IP communications to the following Multilin devices: • DDS Family IEDs • PQM / PQM II - Power Quality Meter • Includes EnerVista™ software - an industry-leading suite of software tools that simplifies every aspect of working with GE Multilin devices • ALPS - Advanced Line Protection System FEATURES User Interfaces • 10BaseT: RJ45 connection • 10BaseF: 820 nm, multi-mode, fiber optic with ST connector • RS485 2-wire, half duplex, is
Open the catalog to page 1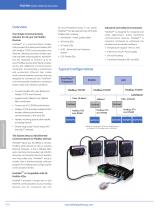 MultiNet Serial to Ethernet Converter Overview One Simple Communications Solution for all your GE Multilin Devices MultiNet™ is a communications module that provides GE Multilin serial ModBus IEDs with ModBus TCP/IP communications over Ethernet, allowing connection to fiber optic LAN and WAN network systems. MultiNet™ has the capability to connect up to 32 serial ModBus devices eliminating complex wiring and additional communications converters, and providing a streamlined and economical Ethernet hub. Unlike most communications converters that are designed for commercial use, MultiNet™ is...
Open the catalog to page 2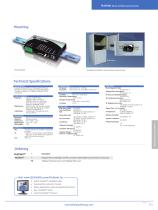 MultiNet Serial to Ethernet Converter Rail Mounted Example of Multinet rail mounted in Switch Gear Technical Specifications user interfaces Ethernet: Version 2.0/IEEE 802.3 10BaseT: RJ45 connection 10BaseF: 820 nm, multi-mode, fiber-optic with ST connector Protocol: ModBus® TCP/IP RS485 ports: RS485 2-wire, half duplex, isolated Baud Rate: 300 bps to 115.2 Kbps Protocol: ModBus® RTU Installation: Configuration through EnerVista setup software Mechanical Mounting: Material: Dimensions: Shipping box: Ship weight: approvals ISO: UL: FCC: Power supply DC power: 90 to 300 V DC, 5 W Max. AC...
Open the catalog to page 3
All GE Grid Solutions catalogs and technical brochures

Compare up to 10 products