Catalogs

>

Model PT6-2-125
Catalog excerpts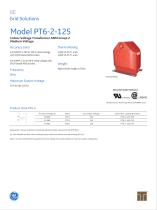 Model PT6-2-125 Indoor Voltage Transformer ANSI Group 2 Medium Voltage Accuracy Class Thermal Rating 0.3 WXMYZ 1.2ZZ at 100 % rated voltage with 120V based ANSI burden. 0.3 WXMY, 1.2Z at 58 % rated voltage with 69.3V based ANSI burden.. Maximum System Voltage 25.5 kV, BIL 125 kV. REGULATORY AGENCY APPROVALS Manufactured to meet the requirements of ANSI/IEEE C57.13. Approved for revenue metering in Canada by industry Canada, Approval No. AE-0676 Rev.2 (a) Also available are other ratios and frequencies, double secondaries and units meeting IEC 44-2. Note: It is recommended that the system line-to-line voltage not exceed transformer maximum system voltage level.
Open the catalog to page 1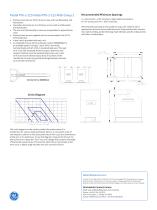 Model PT6-2-125 Model PT6-2-125 ANSI Group 2 Primary terminals are 3/8-16 brass screws with one flatwasher and lockwasher. Secondary terminals are 1/4-20 brass screws with one flatwasher and lockwasher. The core and coil assembly is vacuum encapsulated in polyurethane resin. Primary fuses are not supplied, but are recommended. Use 25 kV, 0.5E rated fuses. A test card is provided with each unit An insulated primary terminal kit part number 0882B06446 is an available option. Includes 2 each 3/8-16 terminals, terminal boots and 48" of No. 6 insulated lead wire. This lead wire is not fully...
Open the catalog to page 2
All GE Grid Solutions catalogs and technical brochures

Compare up to 10 products