Catalogs

>

supercutter
Catalog excerpts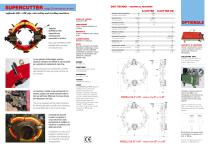 DATI TECNICI - TECHNICAL FEATURES S.CUTTER S.CUTTER HD tagliatubi GBC • GBC pipe cold cutting and bevelling machines Tagliatubi SUPERCUTTER disponibile con motorizzazione pneumatica o idraulica. Pipe cutter SUPERCUTTER available with pneumatic or hydraulic motor. Le due ganasce di bloccaggio superiori riportano marcatura dei diametri di tubi lavorabili per velocizzare il piazzamento macchine. Upper locking jaws are marked with workable pipe diameter for easy and quick machine set up onto pipe. La macchina e' dotata di due portautensili con sistema copiatura del profilo diametro esterno tubo per eliminare differenze di smusso dovute all'ovalizzazione del tubo. The unit is equipped with two copier toolboxes for following the pipe od profile, thus minimizing the bevel offset due to out of round of pipe. CAMPO DI lavoro: TUBI DA 6" A 60". prestazioni: TAGLIO E SMUSSO AUTOMATICO A UTENSILE. materiali: ACCIAI AL CARBONIO, INOX, DUPLEX, ALTRI. alimentazione: PNEUMATICA 0 IDRAULICA. note: MACCHINA AUTOMATICA DI GRANDE PRECISIONE E ROBUSTEZZA, TAGLIA e smussa tubi fino a 60 mm DI SPESSORE DI QUALSIASI ACCIAIO. DISPONE DI PORTAUTENSILE CON DISPOSITIVO COPIATURA ESTERNA TUBO. range: 6" - 60" o/d. functions: cutting, bevelling, facing, counterboring. materials: ANY KIND OF STEEL. power: pneumatic/hydraulic. note: the SUPERCUTTER range of PORTABLE PIPE CUTTING AND BEVELLING MACHINES ARE RUGGEDLY DESIGNED TO WORK IN THE MOST ARDUOUS CONDITIONS. THE SPLIT FRAME DESIGN ENABLES IN-LINE PIPE TO BE CUT AND BEVELLED SIMULTANEOUSLY. VARIOUS SIZE OF MACHINES COVER FROM 6" TO 60" DIAMETER. ALL TYPES OF WELD PREP CAN BE ACHIEVED UP 60 MM WALL THICKNESS. Potenza motore pneumatico hp 3,00 Pneumatic motor power hp 3,00 Potenza motore idraulico hp - 15 Hydraulic motor power hp - 15 Radial feed rate per revolution inches 0,004 0,008 MODELLI DA 6" A 36" - models from 6" up to 36" Concepita per lavorare in esterni su pipeline, il corpo macchina si apre permettendo di installare la macchine in qualsiasi punto della linea di tubi. Developed for on site use in pipelines, machine body is split frame type allowing set up of machine at any point along pipelines. MODELLI DA 36" A 60" - MODELS from 36" UP to 60" Toolbox for inside bevel and id BORING UP TO 100 MM DEPTH.
Open the catalog to page 1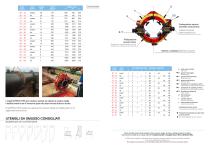 ** Peso netto del settore / Net weight of the frame 06" - 12" pneum. 26 143 800 750 500 DIAM. ALIM. GG/MIN PESO** DIMENS. (mm) RANGE SUPPLY RPM WEIGHT** "A" "B" "C" Predisposizione secondo motore. Position for second motor set up. Predisposizione secondo blocchetto d'avanzamento. Position for second striker bracket set up. Apertura a compasso/Split frame ring point I modelli SUPERCUTTER sono studiati e realizzati per ottenere la massima rigidita e stabilita durante le fasi di lavorazione grazie alla propria robusta struttura in acciaio. All...
Open the catalog to page 2
All G.B.C. INDUSTRIAL TOOLS catalogs and technical brochures
Archived catalogs

Compare up to 10 products