Catalogs

>

VoIP Auteldac 4
Catalog excerpts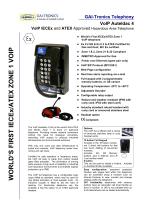 GAI-Tronics Telephony VoIP Auteldac 4 VoIP IECEx and ATEX Approved Hazardous Area Telephone World's First IECEx/ATEX Zone 1 VoIP telephone WORLD'S FIRST IECEx/ATEX ZONE 1 VOIP Ex II 2 GD & Ex II 2 G ATEX Certified for Gas and Dust, IEC Ex certified Power over Ethernet (spare pair only) Real time alarm reporting via e-mail Full keypad with 3 programmable memory buttons, or CB variant Adjustable Sounder Configurable relay output Robust and weather resistant (IP66 with curly cord, IP54 with steel cord) Industry standard robust handset with curly cord or armoured stainless steel Headset option The VoIP Auteldac 4 (A4) is the world's first ATEX and IECEx Zone 1 & Zone 21 approved telephone. Providing simple network connection without the need for analogue convertors, extending VoIP access to arduous industrial atmospheres and environmental extremes. With only one voice and data infrastructure to install and maintain, VoIP telephony saves time, money and call costs. Certified for safe operation in hazardous areas, the VoIP A4 body is made from carbon loaded glass filled polyester. The elimination of moving parts ensures a high level of reliability in industrial and hazardous environments and enables ingress protection up to IP66. The VoIP A4 telephone has a configurable relay output fitted as standard, which may be used for ring strobe activation or local speaker mute. An inductive coupler is fitted to aid the hard of hearing. For hands-free telephone use, the Auteldac 4 has the option of an ATEX approved headset. Compliant Options: The VoIP A4 is offered with a choice of armoured stainless steel or curly handset cords. 18 button Full Keypad Included in the 18 button version, are 3 direct dial buttons for fast one touch dialling of pre-stored numbers. Includes: M1- M3 Memory buttons, plus S 'Silence' and LR 'Last number redial' 0 button This can be used to initiate a 'hotline'. Autodial on handset lift also available. Easy configuration: password protected intuitive web pages held within the telephone can be accessed using a browser such as Internet Explorer to view, monitor and change settings within the telephone. 24/7 Availability: telephones with memory buttons have an automatic call divert facility so that if a number or URI is not available then up to 20 alternatives can be dialled automatically.
Open the catalog to page 1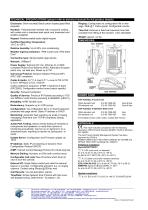 TECHNICAL SPECIFICATIONS (please refer to technical manual for full product details) Enclosure: (Wall mounted) Black carbon loaded glass-filled polyester Ringing: Configurable via configuration file or web page. 90db @ 1 metre typical. Configurable volume Handset: Polycarbonate handset with conductive coating, with coiled cord or stainless steel spiral cord (extended cord lengths available). Time Out: Enforces a fixed call maximum time limit (variable) from lifting of the handset. User selectable. Keypad: Weathersealed tactile digital keypad Certified Operating Temperature: -20°C to +50°C...
Open the catalog to page 2
All GAI-Tronics a division of Hubbell Ltd catalogs and technical brochures

Compare up to 10 products