Catalogs

>

Voice over Internet Protocol Telephones
Catalog excerpts
VoIP Telephony Weatherproof VoIP Telephones GAI-Tronics Industrial Telephones available in VoIP (SIP) • Protection up to IP66 • SIP protocol (RFC 3261) • Automatic call divert (memory list) • Operating Temperature -20°C to +60°C • Range of weather and vandal resistant enclosures, keypad and handset options • Four inputs, two outputs per phone • Web page configuration • Power over Ethernet Real-time alarm reporting via email GAI-Tronics Voice over Internet Protocol (VoIP) industrial telephones provide simple network connection without the need for telephone adaptors, extending VoIP access into the most arduous of environments. With only one voice and data infrastructure to install and maintain - time, money and call costs are reduced. Withstanding extremes of temperature, weather, vandalism and vibration, and providing enhanced levels of electro magnetic and lightning protection are the basis of the entire design of GAI-Tronics telephones. Our new generation of VoIP-SIP telephones are fully integrated and the full benefits of converging onto a data network can now be realised. Immediate email and Syslog alerts of events such as handset loop integrity failure, HTML based remote configuration, unattended updates of firmware and configuration. The rugged, weatherproof VoIP-SIP telephone range compliments your existing communication infrastructure as each range is designed to provide commonality of operation. GAI-Tronics telephones have passed stringent approval processes set by national rail, road and airport authorities, police forces, councils and petrochemical industries, and can be found in safety and security applications throughout the world. Our VoIP telephones integrate the latest technology with the quality, durability and reliability, gained through 60 years experience as a specialised communications provider, to give you a trusted product for your business' future.
Open the catalog to page 1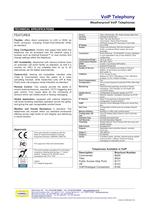 VoIP Telephony Weatherproof VoIP Telephones GAI-Tronics, UK - Tel: +44 (0)1283 500500 - Fax: +44 (0)1283 500400 - www.gai-tronics.co.uk GAI-Tronics Corporation, USA - Tel: +1(610) 777 1374 - Toll Free: 800 492 1212 - Fax: +1(610) 775 6540 - www.gai-tronics.com GAI-Tronics S.r.l, Italy - Tel: +39 02 48601 460 - Fax: +39 02 4585 625 GAI-Tronics Corporation, Malaysia - Tel: +60 3 8945 4035 - Fax: +60 3 8945 4675 An ISO9001 Registered Company The policy of GAI-Tronics is one of continuous improvement, therefore the company reserves the right to change specifications without notice....
Open the catalog to page 2
All GAI-Tronics a division of Hubbell Ltd catalogs and technical brochures

Compare up to 10 products